This book offers a comprehensive look into the many cheats you can use in Flash MX to achieve believable pseudo-3D effects in your designs. Each chapter guides you through the most wanted 3D cheats using a series of stepped tutorials, giving you tips and tricks along the way.
Layout Conventions
We want this book to be as clear and easy to use as possible, so we've introduced a number of layout styles that we've used throughout "you've probably already noticed a few of them in this chapter:
Instructions in exercises appear as numbered steps.

Different styles emphasize things that appear on the screen.

Hyperlinks appear in the following format: www.friendsofed.com .

Code appears in this style , and any new code or code that we want to emphasize appears like this . You'll also see input information and element names in the same style .

Keyboard shortcuts appear as follows : CTRL/CMD+S indicates that PC users should press the CTRL (Control) key and the S key at the same time, while Mac users the ˜ (Command) key and S key. We've attempted to cater to both PC and Mac users throughout.

New, important terms appear in bold.

If a page isn't wide enough to display a long line of code, we have employed a code continuation symbol ( ). Where you see this, it means the code should all be on the same line.

Menu selections are indicated as follows: Text > Style > Bold (see the following screen shot).
Download Files
Throughout each of the chapters, you'll see references to download files. These are the completed files for everything you will build throughout the book and extra files to help you along the way. In fact, you can get an entire bonus chapter, "Interactive Scaling." These files can be downloaded from the link on the friends of ED homepage ( www.friendsofed.com ).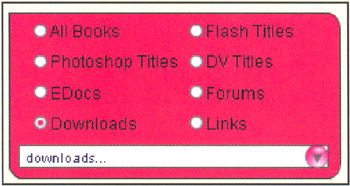 Support "We're Here to Help
All books from friends of ED should be easy to follow and error-free. However, if you do run into problems, don't hesitate to get in touch "our support is fast, friendly, and free.
You can reach us at www.friendsofed.com . We'd love to hear from you, even if it's just to request future books, ask about friends of ED, or tell us how much you loved Flash 3D Cheats Most Wanted. If your inquiry concerns an issue not directly related to book content, then the best place for these types of questions is our message boards at www.friendsofed.com . Here, you'll find a variety of designers talking about what they do, who should be able to provide some ideas and solutions.