Line ˜Em Up and Fade ˜Em Out
The Sequence Layers command also gives you the ability to dissolve between shots. Perform the Sequence Layers command as previously described. In the dialog box you have a few choices on overlapping the layers .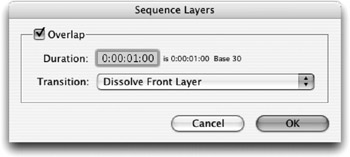 You can select whether the layers overlap, and if so, how long they overlap.

You can also choose to have the layers cut to another or dissolve between layers by adjusting the transition setting.

Dissolve Front Layer when you want to dissolve between full-screen opaque items such as video or film footage.

Cross Dissolve Front and Back Layers works well for items that have transparent areas (such as text or logos). This option causes both layers to fade and will show the background layer through.