The Paint Effect is new to AE 6 and we love it. Learn to get more out of the new tool as well Vector Paint effect. Vector Paint has been available, first as a plug-in by Cult Effects for AE 3 and 4 and was then integrated into the AE package in version 5. Learn to harness the power of all the Paint options as a compositing tool and to create eye-catching treatments for footage and stills.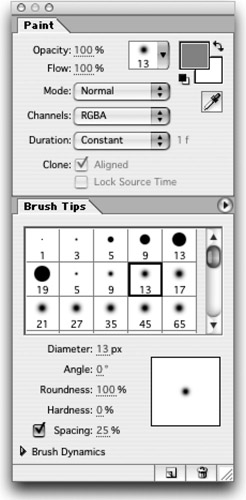 Window Treatments
To use the Brush Tool, you have to launch a layer in the layer window. It will be opened as a tabbed window where your Composition window is.
To open the Layer Window, double click the layer in the timeline that you want to paint.

It's a good idea to view the Layer Window and the Composition Window simultaneously by dragging the Layer Window to it's own space on the desktop. Click on the Layer Window tab in the and drag out
You can do this with many other windows and palettes in AE and most Adobe programs.