Ever render a file and forget to check the audio render box in your Render Queue? Don't be embarrassed, happens all the time. What's a motion graphic artist on a deadline to do? If you have QuickTime Pro, the fix is easy.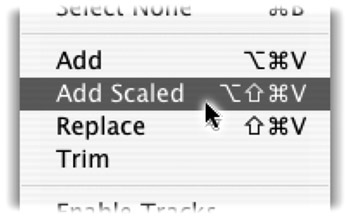 Render out just the audio only track. It should be the same duration as the movie file that needs audio.

Open both files using QuickTime Pro.

In the Audio file, press Cmd+A (Ctrl A) to select all.

Copy the Audio file to your clipboard by pressing Cmd+C (Ctrl+C).

Switch to the new movie and position your playback head at the start of the movie.

Choose Edit Add Scaled (Option+Shift+Cmd+V) (Alt+Shift+Ctrl+V) to add the audio track to the movie.

Choose Save As to save the file. By default, the audio is linked (dependent) so you must keep the audio track around. If you want to create a new clip, choose to make the file self-contained.