| | |
| --- | --- |
| Lesson Files | Lessons > Lesson 05 > 05Desert Starter.key |
| | Lessons > Lesson 05 > 05Desert Theme Design.key |
| | Lessons > Lesson 05 > 05Arizona Wildlife Final.key |
| | Lessons > Lesson 05 > iMovie Project > Desert_Start.iMovieProject |
| | Lessons > Lesson 05 > Graphics |
| Time | This lesson takes approximately 2 hours to complete. |
| Goals | Create a custom theme and background |
| | Create a photo cutout with Adobe Photoshop and Keynote |
| | Save and share templates |
| | Mask an image with a custom shape |
| | Embed Web pages in a presentation |
| | Add hyperlinks as navigation controls to a kiosk presentation |
| | Export a presentation to CD-ROM |
While Keynote ships with several excellent templates, you may nevertheless find yourself wanting to customize or create your own. A custom theme can help a company reinforce its branding or help a teacher reinforce a presentation. A custom theme can use unique background images as well as custom fonts to improve the style of the slide.
To further enhance a presentation, Keynote supports several graphic formats. In this lesson, you'll learn how to prepare files to include transparency. You will harness Adobe Photoshop during certain parts of this lesson. If you do not own this program, you have two options. The first is to download a 30-day trial from Adobe's Web site. The second option is to read the steps using Photoshop, but then use the prepared images that can be found in the Lesson 05 folder.
You will build an interactive presentation with navigation during this exercise.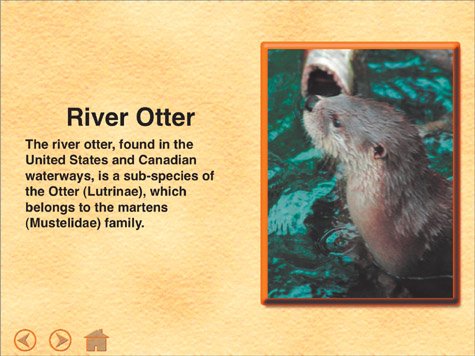 You will also see how to add Web views and Web links to a presentation to capture frequently updated information. For example, you could embed a Web page that shows changing interest rates into a presentation. You'll also learn how to incorporate hyperlinks to navigate between slides, which is very useful if the presentation is being run on a kiosk. Finally, you'll save your presentation to a CD-ROM.