You can improve the appearance of your document by hyphenating words at the ends of the lines. Once hyphenated, text that is not justified will be less ragged at the margin, and justified text will have more uniform spacing between the characters. You can hyphenate text in one of three ways.
You can have Word automatically hyphenate your entire document.
You can have Word hyphenate text but allow you to confirm the placement of each hyphen.
You can manually insert various types of hyphen characters.
NOTE

---

You should hyphenate your document after you finish editing, formatting, and using the other proofing tools, because these operations can change the position of line breaks. Also, if you later change features of the page design that affect line breaks, such as the margins, you might need to hyphenate your document again.
Hyphenating Your Document Automatically
You can let Word hyphenate the document in the active window by pointing to Language on the Tools menu and then choosing Hyphenation to open the Hyphenation dialog box:

The hyphenation zone controls the number of hyphenations that Word performs. It works as follows: When Word encounters a word that extends beyond the right indent, it must decide whether it can wrap the word (that is, move the entire word down to the next line) or whether it should hyphenate the word. If wrapping the word would leave space at the end of the line that is narrower than the hyphenation zone (.25 inch wide by default), Word wraps it: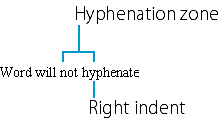 CAUTION

---

When you select the Automatically Hyphenate Document option, Word will hyphenate your entire document even if you have selected only a portion of the document.
If, however, wrapping the word would leave a space wider than the hyphenation zone, Word hyphenates it: