Before you put your site up on the Web, you'll want to check all the details of your Web publication, not just the hyperlinks. Make sure that the text is free of spelling errors and laid out correctly, that the objects are in the right place, that the hyperlinks go where you want them to, that the animations move, and that the sounds make noise. Choosing Web Page Preview from the File menu lets you do this preflight check.
After you have ironed out any onscreen glitches, you might want to save your Web pages in a folder on your computer so you can publish them to the Web or to an intranet later. To do this, click Save As Web Page on the File menu, and type a name for the folder in the list box.
If you're ready to upload the finished product to a Web server to make it available on the Web or on a local area network that serves your company intranet, you can use the Web Publishing Wizard to accomplish this task. This wizard helps you transfer your Web pages, including all the support files containing graphics and other linked content, onto a Web server. To launch the Web Publishing Wizard, click the Windows Start button, point to Programs, point to Accessories, point to Internet Tools, and then click Web Publishing Wizard. The opening window for the Web Publishing Wizard appears: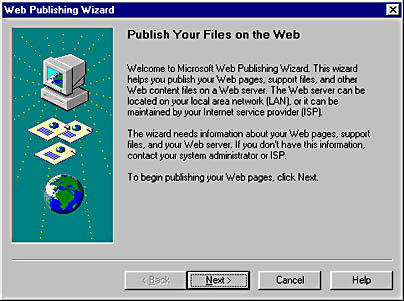 If you've made an initial connection to the Web, you probably already have an Internet service provider. But, before you can post your files to their Web server, you'll want to call your ISP (Internet service provider) and ask how they want you to organize and name your files. Or contact the person at your company who is in charge of the Web site. He or she will be able to give you the information you need to follow the wizard and successfully post your publication to the Web.
When you learn the properties to assign to each Web page, such as the name of the page or the particular filename extension your Internet service provider uses, you can enter them in the Web Site Properties dialog box. To do this, choose Web Properties from the File menu, and click the Page tab. After entering this information, click the Site tab to provide descriptive words about your site: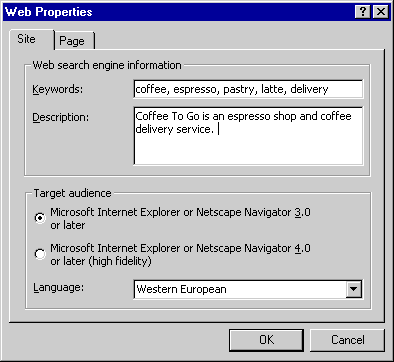 Many people use search engines to find information on the Web. When you include meaningful keywords here, you allow search engines to match your site to searches, which helps bring visitors to your site.