Chapter 29
Whether you're a volunteer producing a nonprofit newsletter, a manufacturer distributing a new product brochure, or an espresso cart owner updating his or her menu, you are entering the world of desktop publishing. You probably won't be sent to design school, or get to take a weeklong workshop in digital prepress. You might not have much time to produce your document or a large production budget. And, as long as you're up, your boss would like you to publish it to the Web!
Fortunately, you don't have to be a professional graphic artist to produce eye-catching publications that tell your audience what they need to know about your product or service. Using Microsoft Publisher 2000, you can create the kinds of publications that were once relegated to specially trained desktop publishers.
Using wizards or starting from scratch, you can use Publisher to create newsletters, brochures, business cards, postcards, flyers, letterhead, catalogs, and more. If you're printing your document on a home computer, taking it to a commercial printing service, or publishing it to the Web, Publisher can walk you through the process. And don't panic over your lack of design skills. Publisher 2000 includes sophisticated page layout templates, which help you unify all the components of your publication into one consistent design package.
Using a Publisher wizard, you can create a postcard, like this: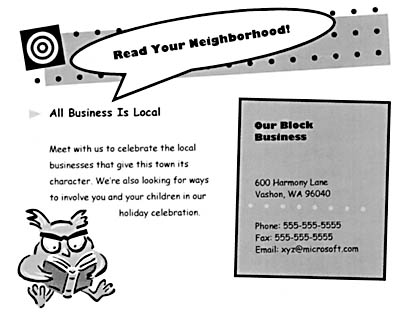 Or a catalog, like this: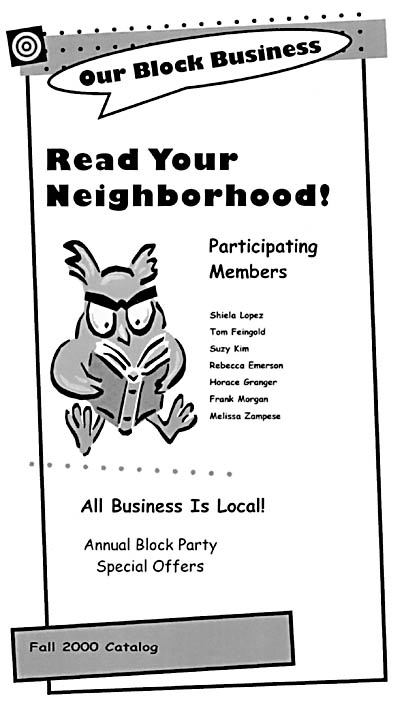 ON THE WEB

---

The Reading.pub file is located on the Running Office 2000 Reader's Corner page. For information about connecting to this Web site, read the Introduction.