---
The most significant and, more importantly, the most balanced increase of the video adapter speed can be achieved using specialized software tools. These tools, as a rule, allow you to selectively accelerate the video chip and the video memory, the basis for the video adapter. The capabilities of software tools can be complemented by increasing the AGP bus frequency.
The PowerStrip utility is a good example of such a universal program. This program is the product of the EnTech Taiwan.
This software tool allows you to change the operating mode of the video adapter and monitor. It is possible to increase the refresh rate of the monitor to 200 Hz, limited only by the capabilities of the video adapter and the monitor. Besides controlling the monitor refresh rate, this program can change the frequencies of video chipsets and video memory; it also can test video adapters.
The PowerStrip program supports video chipsets from manufacturers including 3dfx Interactive, 3Dlabs, ATI Technologies, Cirrus Logic, Intel, Nvidia, Matrox, S3, SIS, Trident Microsystems, and Tseng Labs. This long list of video chips includes ATI Rage II Pro, CL GD543x/544x/546x, Intel 740, Matrox G100, 3Dlabs Permedia, PowerVR, Nvidia Riva128/128ZX, S3 Vision86x/968, S3 Trio32/64/V+/3D, S3 Trio v2 DX/GX, S3 Virge/VX/DX/GX/GX2, SIS 6326, Trident Providia 9685, and Tseng Labs ET6000/ET6100.
This program works under Windows 9x and Windows NT/2000/XP/Server 2003. It provides the possibility of controlling almost all monitor models, including monitors from well-known companies such as Hitachi, MAG Innovision, Mitsubishi, NEC, Nokia, Panasonic, Philips, Sony, and ViewSonic.
One major drawback of this program is its excessive number of settings, which can be misleading and confusing.
An alternative program is Nvidia's RivaTuner. This program works via manufacturer-provided video-adapter drivers (named Detonator). These drivers allow you to implement the hidden potential of the video adapter. The program supports all video adapters based on Nvidia video chips starting from Riva TNT, and ATI R200/RV250/RV280/R300/R350. The program supports all versions of Detonator drivers from Detonator 2.08 for Windows 98 SE/ME to Detonator 5.08 for Windows 2000/XP. RivaTuner allows low-level settings far below those provided by standard drivers.
An illustration of RivaTuner operation is provided in Figs. 13.4–13.8.
To fine-tune video adapter operation, it is necessary to set the Enable low level hardware overclocking checkbox. (See Fig. 13.8.) You may have to reboot the system before the new settings are effective.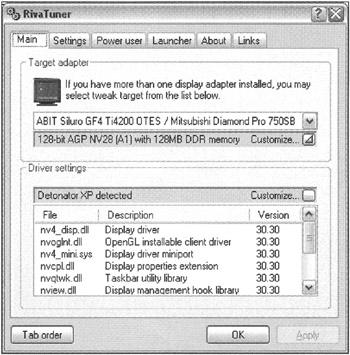 Figure 13.4: Window of the RivaTuner program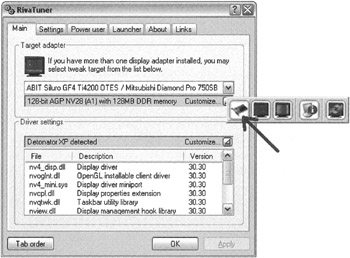 Figure 13.5: Selecting low-level frequency settings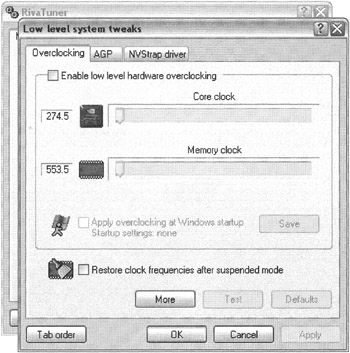 Figure 13.6: Settings window for the video processor core and video memory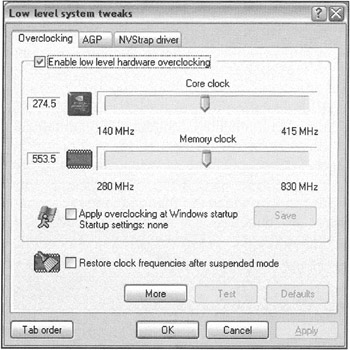 Figure 13.7: Specifying frequencies (before change)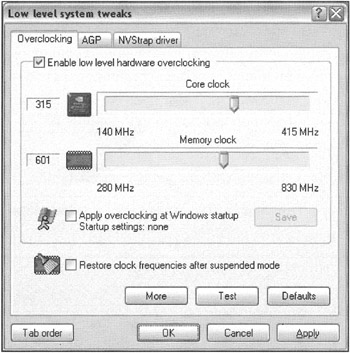 Figure 13.8: Specifying frequencies (after change)
Having specified the frequencies (in this example, 315 MHz for the core, and 601 MHz for the memory), it is necessary to test the selected mode. To do so, just click the Test button. If the new parameters undergo the testing successfully, you can accept the new settings.
Note that there are other universal programs intended to support a wide range of video adapters and monitors. However, most video adapter manufacturers supply special programs with their products. Besides testing and optimizing the settings, these utilities usually provide tools for optimizing the video chipset and video memory. Such tools often can be downloaded from the manufacturer's Web site or obtained from companies specializing in the sale and support of video adapters.
Besides utilities provided by manufacturers, there are lots of shareware and freeware tools developed by overclocking fans. Many tools can be downloaded from the Internet. (Additional information on this topic, as well as the Web sites for some of these utilities, is provided in Chapter 19 of this book.)
Configuration of the Test System
Tests — 3DMark2000 (1,024 × 786 × 16 bits), 3D WinBench/WinMark 2000

Overclocking parameters — Increase the video chip, video memory, and AGP bus frequencies

Video adapter — Asus V3800, AGP, 32 MB SGRAM, 125 MHz video-chip frequency, 150 MHz video-memory frequency

Motherboard — Abit BE-6 II

Processor — Intel Pentium III 550 MHz

RAM — 256 MB CAS2 SDRAM

BIOS — Award Modular BIOS v4.51PG

Operating system — Windows 2000, SP1
Table 13.5:

Test Results with an Asus Video Adapter

| CPU mode (MHz) | CPU bus (MHz) | AGP (MHz) | Video chip/memory (MHz) | 3DMark2000 (1,024 × 786 × 16) | 3D WinBench/WinMark 2000 (fps) |
| --- | --- | --- | --- | --- | --- |
| 550 = 100 × 5.5 | 100 | 66 | 125/150 | 2,586 | 26.7 |
| | | | 160/150 | 2,750 | 27.4 |
| | | | 125/200 | 2,802 | 33.0 |
| | | | 160/200 | 3,051 | 34.7 |
| 733 ≈ 133 × 5.5 | 133 | 89 | 125/150 | 2,740 | 27.2 |
| | | | 160/150 | 2,975 | 28.1 |
| | | | 125/200 | 3,052 | 34.4 |
| | | | 160/200 | 3,432 | 36.7 |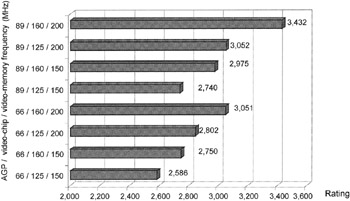 Figure 13.9: Test results using 3DMark2000 (1,024 × 786 × 16 bit)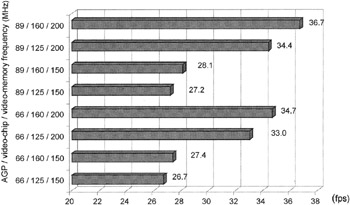 Figure 13.10: Test results using 3D WinBench/WinMark 2000
Configuration of Another Test System
Test — 3DMark2001 SE Pro (1,024 × 786 × 32 bits)

Overclocking parameters — Increase video-chip and video-memory frequencies

Video adapter — Abit Siluro OTES, GeForce4 Ti4200, AGP, 128 MB

Motherboard — Abit IT7-MAX2 v.2.0

Processor — Intel Pentium 4 3.06 GHz with hyperthreading

RAM — 768 MB DDR400

Operating system — Windows XP, SP2
Table 13.6:

Test Results with an Abit Video Adapter

| Video-chip/video-memory frequency (MHz) | 3DMark2001 SE Pro rating |
| --- | --- |
| 250/500 | 10,775 |
| 275/550 | 11,426 |
| 290/550 | 11,623 |
| 290/580 | 11,854 |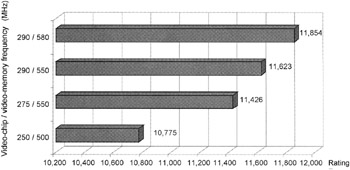 Figure 13.11: Test results using 3DMark2001 SE Pro
---