As the Project Server administrator, you are responsible for creating and modifying the Project Center, Resource Center, Project, Timesheet, Assignment, and Portfolio Analyzer views and setting permissions for your users to use these views.
After you install and configure Project Server 2003 and add users to your Enterprise Resource Pool, users are ready to view and analyze Project Server data using the Project Professional and/or PWA client. However, you must also grant the appropriate permissions to your users who will create or access views. Users who are allowed to create and modify views must have permission to manage views.
You can use the Specify Views page in PWA client available under the Admin, Manage Views menu, to manage all Project, Project Center, Assignment, Resource Center, Portfolio Analyzer, and Timesheet views that are currently available and displayed. Figure 10.21 displays a list of all available view types in PWA client.
Figure 10.21. Expand the view type and review the existing views.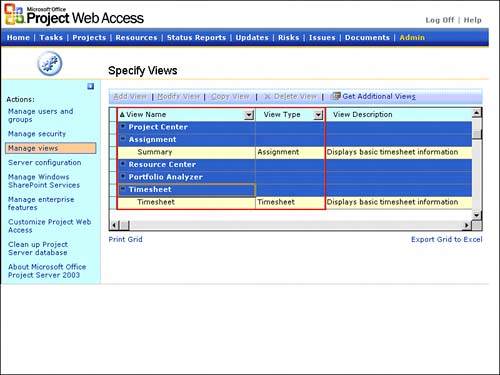 View management goes hand-in-hand with management of other security components such as security templates, users, user groups, and categories. To successfully and effectively manage your EPM solution environment, you need to think of all system components and technologies and come up with a comprehensive system management strategy.
NOTE
For in-depth information about using and managing custom views, see Microsoft Office Project Server 2003 Administrator's Guide, Chapter 4, "Managing Views."