Sounds "including music, narration, and sound effects "can bring your Director movie to life. Adding sounds to Director movies is easy: You simply import a sound file and place it in one of the two sound channels in the Score ( Figure 13.1 ).
Figure 13.1. The Score has two channels intended only for sound sprites .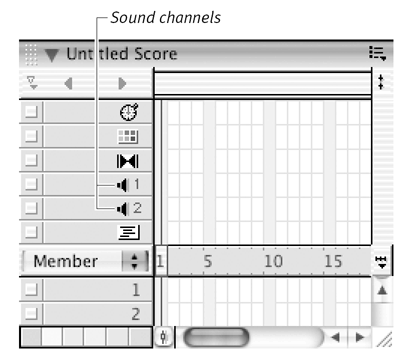 Director offers very limited sound-recording capability (on the Mac only) and no sound-editing capability. In most cases, you'll want to use a third-party sound-editing program to record and edit the sound before you bring it into Director. If you're serious about sound, you'll probably want professional-level recording and editing software such as Digidesign's Pro Tools. In the middle range, there are capable sound-editing programs such as Sonic Foundry's Sound Forge, Bias's Peak LE, and SoundEdit 16 (a Macromedia product that's no longer being developed but is still on the market). In a pinch , you can use the Sound Recorder application that comes with Windows for rudimentary sound editing. You can also find a variety of inexpensive or free sound-editing programs on the Web.
Once you've prepared your sound files, this chapter will show you how to import them, synchronize them to animation in the Score, and compress them for faster download. You'll also learn how certain sound files can be streamed over the Web.