Several frequently used Director commands "chiefly those involving playback of a movie "can be executed quickly and conveniently by pressing keys on the numeric keypad. If you can memorize these numeric-keypad shortcuts, they may speed up the process of editing a Director movie. If you can't easily memorize them "or if you're using Director on a notebook computer that doesn't have a numeric keypad "don't be concerned : the same command are available by means of standard keyboard shortcuts (listed in Appendix B) or menu choices (described in their appropriate places throughout the book, chiefly in Chapter 5).
If you're testing your Director movies on dual platforms, keep in mind that some of the Windows ( Figure A.1 ) and Macintosh ( Figure A.2 ) numeric keypad shortcuts are located in different positions on the keypad.
Figure A.1. The Windows numeric keypad shortcuts make it easy to quickly navigate through a Director movie without having to constantly click the mouse.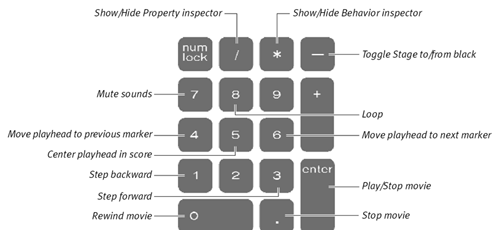 Figure A.2. The Macintosh numeric keypad shortcuts are identical to the Windows shortcuts, but the layout of the actual keypad is a little different.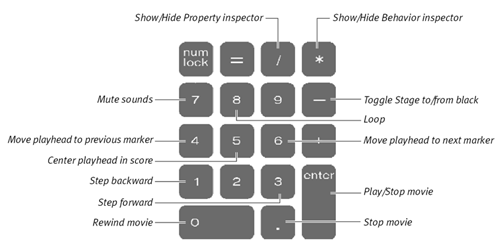 Tip