| | |
| --- | --- |
| | Start Publisher by selecting Microsoft Publisher from the Windows Start, Programs, Microsoft Office option. The opening screen, shown in Figure 23.3, makes it clear what you do first. Select the kind of publication you want to create: a print publication, a Web site and email, a design set , or a blank publication where you design all the elements. You can click on any of the categories in the New Publication task pane to expand that item into a more specific kind of publication within that category. For example, if you want the create an award certificate to give to a star employee, you can click the item labeled Publications for Print in the task pane to expand the items beneath Publications for Print and select the Award Certificate to see a list of awards you can create. |
Figure 23.3. Publisher makes it clear where you begin when you want to create a publication.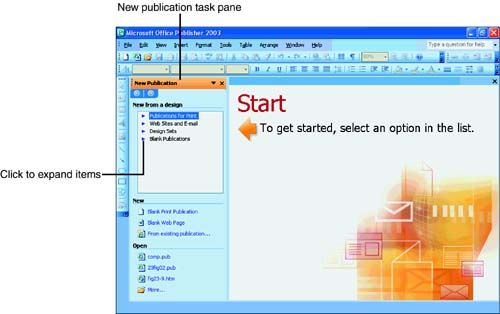 A design set is a collection of publications that all have a similar look. For example, a restaurant might create a main menu and daily special menus that differ in content and form but that must share a similar look as their primary menu. A catalog company might want a design that that keeps consistency in its catalogs, advertisements, and business cards. A design set helps ensure that different kinds of publications share a similar overall look.
The blank publications provide page layouts for all the various kinds of publications that Publisher works with. Publisher does not, however, fill those pages with a color scheme or suggest where a picture or graphic design element such as a border should go. Therefore, if you want to design a business card from scratch but do not want to worry with specifying the size of a routine business card, you click Blank Publications and select the Business Card entry to create the layout for a business card without any of the elements that Publisher would normally suggest.
You'll notice that Publisher's task pane appears on the left side of the editing window. The task pane normally appears on the right side of the screen in Excel and the other Office products.
| | |
| --- | --- |
| | If you have children, click the Publications for Print entry in the New Publication task pane, scroll down, and click Paper Folding Projects, and you'll see publications you can print that show you and your kids how to create airplanes and origami paper-folding artwork. |