All Kinds of Publications
Publisher creates just about any kind of publication you can imagine. Here is just a sample:
| | |
| --- | --- |
| Advertisements | Greeting cards |
| Banners | Labels |
| Business cards | Letterheads |
| Calendars | Newsletters |
| Catalogs | Postcards |
| Email backgrounds | R sum s |
| Envelopes | Signs |
| Flyers | Web sites |
Not only does Publisher assist in the creation of all these kinds of publications and more, Publisher is one of the most graphical of all the Office programs. As Figure 23.1 shows, Publisher displays a thumbnail image of all documents from which you can choose. You'll always know in advance what your publication's general look will be.
Figure 23.1. Publisher always gives you a preview of the publication you can create.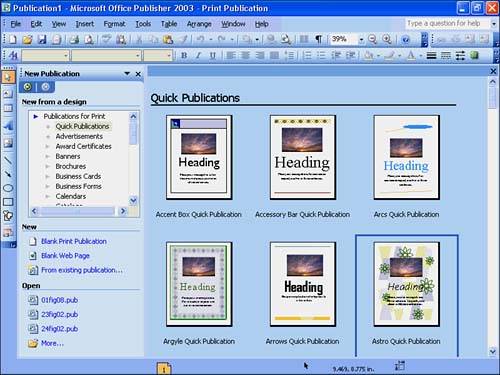 Publisher enables you to combine text, art, and headlines and put them together in the way you want them to look. Just a few years ago, print shops were paid big bucks to use scissors, photos, paper, and glue to do what you can make Publisher do with a mouse click!
When you want to combine text and graphics, as you'd do for a newsletter or many other publications, you work within a what-you-see-is-what-you-get environment (called WYSIWYG in computer lingo and pronounced " wizzy-wig "). It's important to get a sense of how all your publication elements fit together, and you need to see all the various elements on the screen where you can make adjustments and additions.
Figure 23.2 shows the early stages of an editing session for a catalog. The screen shows the first page. The margins, text, and pictures are all laid out in such a way that you can select and edit any of those elements. You can drag the sizing lines between the elements to move or resize any part of the publication. If a picture is too large, you can shrink it, and when you do, any text that might surround the picture adjusts automatically.
Figure 23.2. When you work on a publication, you see all the elements so that you can make adjustments.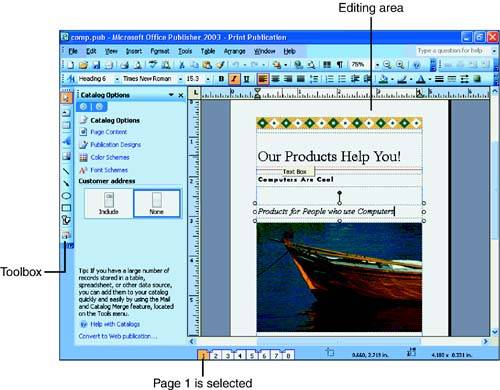 | | |
| --- | --- |
| | Not a graphic designer? Didn't get your typesetting degree? With Publisher's help, nobody will know because Publisher aims to keep your publication looking good and attempts to balance all the elements so that the final design will be consistent. And if you mess up the publication's margins or some other element on the pages, just adjust and reprint. Publisher makes edits simple for you, as you'll see in this and the next hour . |