When you start Access, you'll see a screen that looks similar to Word, as Figure 17.3 shows. The New File task pane provides you with links you can use to create a new database or load an existing database. As with Word and Excel, Access supports the use of template files on which you can base new database files that conform to a predetermined pattern.
Figure 17.3. The Access screen is empty when you launch Access from the Start menu.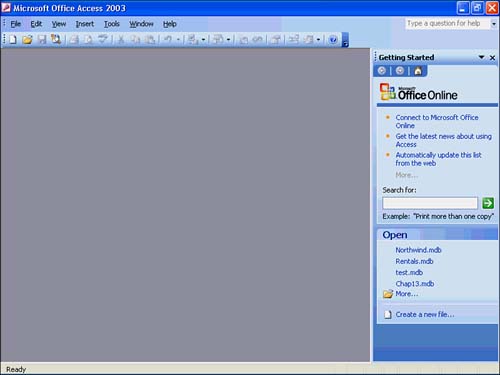 Here are the fundamental steps you follow most of the time when you want to work with Access:
Open an existing database so that you can modify the database structure or work with the database information. Select a database from the list or click the More option to browse a list of existing database files. The section of the New File task pane where you open an existing database is labeled Open .

Create a new database, which requires that you manually set up the entire database structure, including tables, fields, and other pertinent database-structure information. You can also create a more advanced database project , which creates a database system that runs in a networked client/server workspace where the Access database might transfer data to multiple workstations attached to the server. The section of the New File task pane where you create a blank database is labeled New.

Create a new database that is a copy of an existing database. The New File task pane contains the section for creating a new database file from an existing one. You can get to this option by selecting More. This New File task pane option in effect makes a copy of an existing database file.

Create a database file based on a template. Access provides templates that create sample blank databases that track data such as asset management, expenses, and inventories. Microsoft provides additional templates on the Web as well.