Be sure to save your presentation after creating and finalizing it. PowerPoint automatically saves your presentation with the .ppt document filename extension unless you override the default file type and save your presentation in another format, such as the Web-based HTML format.
Of course, you also need to print your presentation, either to a color printer or to a printer that supports transparencies . The File, Print dialog box works somewhat differently in PowerPoint than in Word and Excel to take advantage of the special nature of presentations. You can print your entire presentation one slide at a time or elect to print multiple slides on one page for handouts. In addition, you can print only speaker notes and enclose printed slides in framed borders.
When you display the Print dialog box, shown in Figure 12.8, open the Print What drop-down list to view the selection list.
Figure 12.8. Decide exactly what you want to print.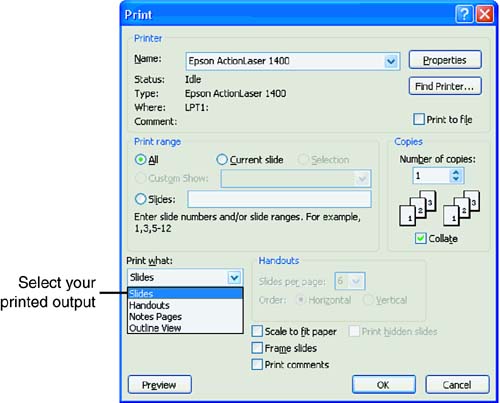 The Print Preview feature is new in PowerPoint. You can get an idea of how your presentation will look on paper by selecting File, Print Preview. If you have a black-and-white printer or one that is capable of printing multiple shades of gray (called grayscale ), the print preview displays in black-and-white or grayscale. If you have a color printer, the print preview displays the presentation's slides in color.
PowerPoint can print your color presentation in grayscale if you don't have a color printer. Select Grayscale from the Print dialog box. In addition, the Print What drop-down list box enables you to print your presentation in any of these styles:
Slides only for the presentation

Handouts (which can hold from two to nine slides per page) so that you can give comprehensive notes to the audience

Notes for the speaker

The outline for proofreading purposes
If you want to print the entire presentation, you have to select File, Print and select All in the Print range section.