It's difficult to illustrate the power of Outlook's Contacts feature without putting a lot of work into expanding a fictional database. The sample India Contacts database you created earlier is very small, but most of your databases will contain dozens or even hundreds of entries. In the India Contacts database, you can easily scan the contacts to find the ones you need. As your database grows, however, this method of finding contacts will become unrealistic .
Finding a Contact
Finding a contact can be a big challenge when you're working with a large database. By using Outlook's Find and Advanced Find features, you can quickly find the information you're looking for.
From the Address Cards view, click Find on the Standard toolbar to open the Find dialog box, as shown in Figure 16.8. In this basic Find dialog box, only the Name , Company, Addresses, and Category fields are searched by default. This points up the importance of using categories "since Category is so readily available for searching! Placing a check mark in the Search All Text in the Contact option box instructs Outlook to search all of the text fields.
Figure 16.8. The Find dialog box is opened above the Address Cards view.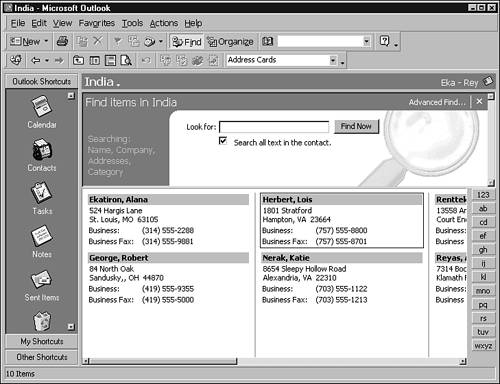 Using the Advanced Find Feature
Advanced Find can be used with contacts even if you remember only a portion of the information (such as the spouse's name).
There are at least three ways to start Advanced Find:
Click Advanced Find in the upper-right corner of the regular Find pane.

Choose Tools, Advanced Find.

Press Ctrl+Shift+F.
Figure 16.9 shows a sample Advanced Find dialog box. From here, you can search for information contained nearly anywhere in Outlook. Take a few minutes and explore some of the Find options on the Contacts, More Choices, and Advanced tabs.
Figure 16.9. The Advanced Find dialog box allows you to search many additional features and modules of Outlook to find exactly the information you need.