Poser 4 by Curious Labs
(www.CuriousLabs.com)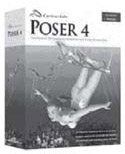 Poser 4 is a 3D-character animation and design tool for artists and animators for creating images, movies, and posed 3D figures from a large selection of detailed 3D human and animal models. The library includes pose settings, facial expressions, hand gestures, and numerous exchangeable clothing wardrobes.
The Poser 4 Sketch Designer is a rendering option that allows an artist using a series of brushstrokes to create a scene to define backgrounds, edges of scene elements, and individual elements and figures.
Each piece of clothing was designed as though it were a Poser figure, defined as a conforming figure to be attached to other clothing or body parts. Poser 4 comes with an extensive library of brand-new, predesigned wardrobe elements.
The animated deformers include magnet (bending, stretching, or pinching), wave (animates ripples on surfaces), and turbulence (splash or explosive blast effects). Poser's advanced texture controls allow a whole figure or individual body part to incorporate transparency and reflections into textures.
Unlimited light can be placed into a scene, including the new fixed set of three global lights, which can be spotlights that cast very realistic shadows and varying cones and intensity settings. A "point at" light function can track a prop or figure's motion.
Poser has hierarchical selection tools, polygonal picking and grouping, and its figures have IK.
Poser 4's libraries have over 60 fully textured 3D figures, including nude human male and female models, babies (generic with or without a diaper), three robot models, and new animal models. The hair models include styles such as an afro, curly, pigtails, and facial hair. Facial models include round face, long face, ovoid, heart, and square, plus lips, nose, chin, cheeks, brow, and ethnic morphs.
Some clothes in the library include full human body outfits (cat suit or superhero costume for a female, a halter type dress and a spaghetti strap dress for a female, a formal gown for a female, a male and female overcoat, and a man's tuxedo), various hats, upper body (female halter, male and female long sleeve, male muscle shirt, male necktie, male and female short sleeve with collar, male and female t-shirt, male and female turtleneck, male and female unitard, and male and female vest), lower body (male and female bikini, jeans, shorts, slacks, and female above knee skirt), footwear (female boots, cowboy boots, female high heels, male and female running shoes, sandals, socks, and work shoes). Also included in the library are animation sets, characters, faces, hands, pose sets, and walk collections.
Poser 4 can import 3D files such as AIFF, AVI (Windows), BMP, BVH motion, DXF, JPEG, OBJ, PICT, QuickTime (Mac), TIFF, WAV, 3DMF, 3DS, and export AVI (Windows), BMP, BVH motion, DXF, H-Anim, JPEG, MetaStream 2, OBJ, PICT, QuickTime (Mac), RIB, TIFF, VRML 2, 3DMF, and 3DS.
System requirements for Windows are a Pentium PC running Windows 95, 98, Me, or NT (Service Pack 3 or later), 32 MB RAM (64 MB recommended), color display (24-bit recommended), CD-ROM drive, and 240 MB free hard disk space. For a Pentium PC running Windows 2000 or XP the requirements are 64 MB RAM (128 MB recommended), color display (24-bit recommended), CD-ROM drive, and 240 MB free hard disk space. For a Macintosh such as a Power Macintosh the requirements are System 8.x through 9.x with 32 MB RAM (64 MB recommended), color display (24-bit recommended), CD-ROM drive, 240 MB free hard disk space.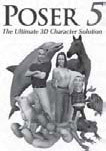 Poser 5 full version retails for $319, while the Upgrade retails for $169.
LIPSinc Mimic
LIPSinc Mimic from Curious Labs is a stand-alone Windows application that works with Poser 4 (not included) and automates lip-synching and facial animation. Mimic analyzes speech (import a sound file or use a microphone and enter the sounds) and automatically outputs the correct corresponding mouth, jaw, and lip position data and speech gestures, such as head nods, and eye blinks), for Poser version 3 and version 4 figures.
LIPFX Mimic is the application for timing and lip-position data, and SpeechFX Mimic generates realistic head, eye (including eye blinks), and eyebrow movements. LIPSinc Mimic's system requirements are a Pentium 2 or higher, 32 MB RAM running under Windows 95, 98, or NT with Curious Labs Poser version 3.01 or version 4.
LIPSinc Mimic retails for $139.