In addition to the filters native to Photoshop Elements, many third-party plug-ins are available. Some are strange , some are just utilitarian , and some are wonderful! Because of the way Elements is designed, almost all Photoshop filters work with it. Let me show you some of my favorites.
Elements is compatible with all the third-party Photoshop filters, and with most plug-ins that work with other graphics programs such as Painter. You can install them very simply, by copying them into the Filters folder. If you already have filters installed in another Photoshop-compatible graphics program, you don't need to reload them. You can designate a second plug-ins folder by going to the Preferences dialog boxes (Edit, Preferences), displaying the Plug-Ins & Scratch Disks options, clicking Choose, and locating the folder containing the additional plug-ins you want to use. When you restart Elements you'll see the new ones listed at the bottom of the Filters menu.
Alien Skin: Eye Candy 4000 and Splat!
Eye Candy 4000 is a compilation of Photoshop filters. As the name of the publisher (Alien Skin Software "www.alienskin.com) suggests, some of these filters are a little out of the ordinary. There are 23 in all, ranging from anti-matter to wood. Fire, Fur, and Water Drops are some of my favorites. Fire adds very realistic flames to areas you have selected. Some of these, particularly marble and wood, can be used to create very realistic backgrounds or textures. Eye Candy's interface, though it seems complicated at first glance, is really quite simple. Move the sliders to see what each one does. Be forewarned: Some of Eye Candy's filters may take a while to render. Try to be patient, especially if you are using an older, slower computer.
| | |
| --- | --- |
| | Remember that you can use these third-party filters in combination with Photoshop's own filters, and you can use the same filter several times for a stronger effect. |
Alien Skin's latest filter set is called Splat! Splat! Filters include Border Stamps, Edges, Fill Stamps, Frames, Patchwork, and Resurface. Surround your girlfriend with white roses, or the baby with jelly beans. A lot of the contents are silly, but some are quite beautiful. As a final example, Figure 25.35 shows one of Splat's Resurface filters, Canvas, with a picture I'd already converted to an oil painting. Notice how much realism this adds.
Figure 25.35. The cat photo looks kind of like a painting, but the canvas in Splat! works better than the one provided in Elements.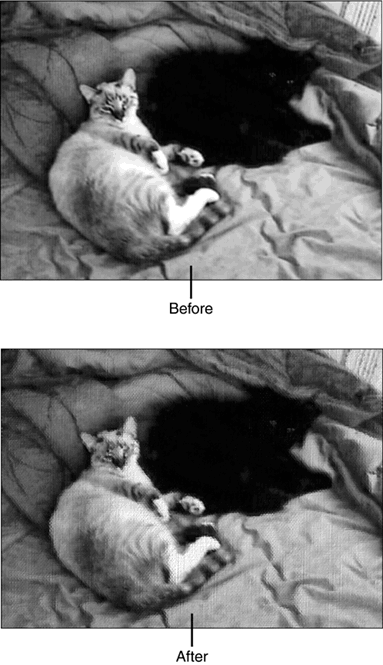 Andromeda Software Filters
Andromeda Software (www.andromeda.com) has several sets of cool filters with a user -friendly interface. There's Prism, which makes your subject appear as it might if you were looking at it through a real glass prism. Funky, huh? And there are a number of photographic filters, plus excellent focus correction. These are well worth checking out.