Sometimes you'll need to create an effect for which there's no recipe and no shortcut. The best way to master the techniques that will eventually make you a great photographer or digital graphics artist is to go through the Elements tutorials, which you probably installed along with the program. Assuming you did an Easy Install, they'll be in a folder called Tutorials, inside the main Elements folder. To open a tutorial, go to the Help menu and choose Photoshop Elements Tutorials.
When you select the Photoshop Elements Tutorials option, a browser window like the one in Figure 24.30 will open with a list of what's available. Choose an interesting topic from the pane on the right, and click to open it.
Figure 24.30. These tutorials, and the entire Photoshop Elements help system, actually run in your browser.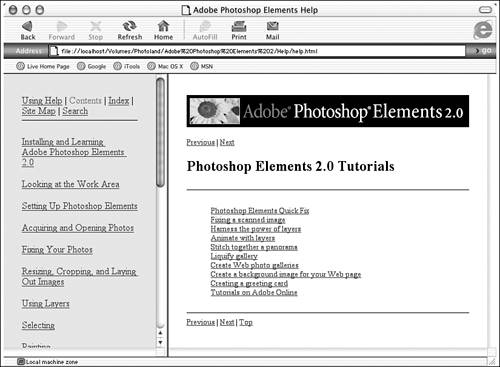 Tutorials are longer and more conversationally written than recipes, and come with the image files you'll need to follow along. There are no Do It for Me links, so you'll have to read carefully and follow the directions closely. Figure 24.31 shows a typical page from a tutorial. This one, called "Harness the Power of Layers," happens to be all about layers , and if you're still having trouble using them, I recommend it.
Figure 24.31. Tutorials take you through specific exercises, unlike recipes, which work with your own pictures.
There are more tutorials at Adobe Online, along with many other useful things. This is also where you'll go "automatically, if you choose "to look for updates, bug fixes, and enhancements to make Elements run better. The quickest way to get to Adobe Online is to click on the yellow flower at the top of the toolbox.