You can get to the Preferences dialog boxes either by selecting Preferences at the bottom of the Edit menu or by pressing Command-K (Mac). Once you're there you'll find eight different sets of options relating to everything from using smart quotes to changing the color of the grid lines. Figure 21.24 shows the first in the series: General.
Figure 21.24. Too many choices?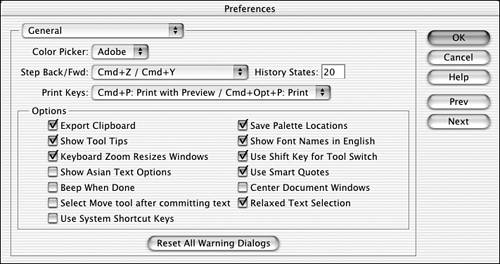 Some of these truly are common sense preferences. And as long as Show Tool Tips is checked, holding the cursor over any tool or button will display a short explanation. My suggestion is to look through the Preferences screens and take note of what's there. If you prefer to think metric rather than measuring in inches, that's an easy change. If you'd rather see your grid in a different color, go ahead and change it. But leave the options you don't understand on their default settings. As you learn more about working with Elements, you can come back and adjust the Preferences to suit your needs.