Before you explore the many features of Microsoft Office Access 2007, it's worth spending a little time looking it over and "kicking the tires." Like a new model of a favorite car, this latest version of Access has major changes to the body (user interface) as well as a new engine under the hood (Access Data Engine). In this chapter and the next, we explore the changes to the user interface, show you how to navigate through Microsoft's new replacement for toolbars and menus called the Ribbon, and discuss the various components of an Access database and how they interact.
Opening Access for the First Time
The first time you open Office Access 2007, you are presented with two preliminary option screens. The first of these, the Privacy Options dialog box seen in Figure 2–1, lists three check boxes, which are selected by default. Note that you must have an active connection to the Internet to use these options. The Get Online Help check box, when selected, allows Access to search Microsoft Office Online's vast resources for content relevant to your search. Access downloads this information to your local computer for faster searching when you search for items in the Help section. Selecting this check box also means you will have the latest Help information at your disposal. The second check box, called Keep Your System Running, is a special tool you can download that interfaces with the 2007 Microsoft Office system. You can use this diagnostic tool to help identify problems with your Office installation. Although not required to run the 2007 Office release or Access 2007, this tool might assist you with locating the cause of any unforeseen system crashes.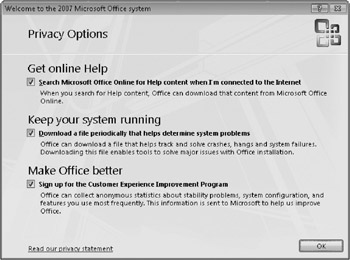 Figure 2–1: You can choose privacy options when you first launch Access 2007.
The third check box in the Privacy Options dialog box, Make Office Better, allows you to sign up for Microsoft's Customer Experience Improvement Program. This utility tracks various statistics while you use Access 2007 and the 2007 Office release and sends that information to Microsoft. Note that this option does not send any personal information to Microsoft. By tracking how customers are using their products, Microsoft can improve its Office line of products for future releases. Click the Read Our Privacy Statement link in the lower-left corner to read Microsoft's privacy statement. After you make your selections or clear the check boxes you do not want, click the OK button to start using Access 2007.
| | | |
| --- | --- | --- |
| | Note | The dialog box shown in Figure 2–1 is what we saw when opening Access 2007 for the first time using Microsoft Windows Vista. You might see a slightly different sequence of prompts if you install the 2007 Office release on Windows XP. |
After selecting your options in the Privacy Options dialog box, you can always alter these settings later. For more information on changing these settings, see "Modifying Global Settings via the Access Options Dialog Box" on page 87.
| | | |
| --- | --- | --- |
| | Caution | If you are in a corporate network environment, you should check with your Information Technology department to determine whether your company has established guidelines before making selections in the Privacy Options dialog box. |