If you're less inclined to do your own printing, or looking for an easy way to send prints to friends and family, the all-in-one packages (and some Web sites, see below) provide excellent tools for turning digital images into high-quality glossy prints.
Think of your all-in-one program or photo-sharing Web site as the interface to a giant professional photo lab. Click on your photograph and then hit the "order prints" button in most programs and you're on your way to getting photos ordered, packaged, and mailed anywhere.
When you order prints, your files are transferred electronically (remember, sending a copy of a digital image doesn't reduce its quality) to a big processing center where they are printed on expensive, high-end machines. (This doesn't necessarily mean they'll be better than the output you can get on an inkjet, but it does mean that you don't have to print them.) They're then packaged and shipped to the address you provide.
The best thing about these services is that they offer more than just prints. Many programs and Web sites can walk you through the steps needed to create photographic books, hard-or soft-cover compilations of your photos laid out as if you'd hired a talented graphic designer to help you make a custom book. These volumes make great gifts, and they're much more interesting - than a pile of pictures.
TIP
OK, this one isn't a travel tip per se, but if you want to really make someone happy, create a custom book with photos from a special event. I've brought my camera to many a christening or bar mitzvah, and then ordered a hardcover book for the person I photographed. It's a much appreciated, thoughtful present. You can do this for travel subjects, too. Want to thank the tour guide who showed you around Guam for a week? Make a book.
Figure 7.5. BookMaker is a stand-alone application from MyPublisher.com that allows Windows users to create a book on their computer, then transmit the finished book to MyPublisher.com for printing. (Photo by Reed Hoffmann)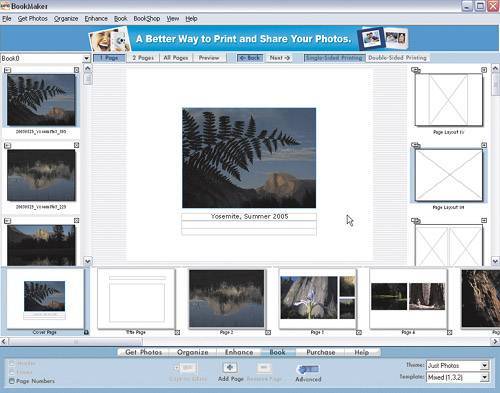 Figure 7.6. Self-publishing is easy. You can either print your own book and have it bound at a local office supply store, or use one of the many online services that will print a book for you using your photographs. (Photo by Michael Schwarz)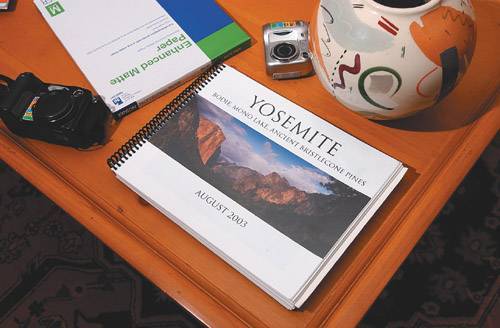 It's a snap to create a book. Most of the time you just need to select some photos or an album, click on the button to make a book, and then choose a template, and hit the "buy" button. It's really that simple. Most of the programs will also allow you to drag photos or pages around in the book, change the themes on certain pages, write captions, and more. It's a fun way to share your pictures.