Windows Vista is all about improving your experiences with various types of media, including music and videos. The major media components in Windows Vista (such as the sound system) have been completely updated and enhanced to help you experience the very best your hardware can provide. Windows Media Player also received a major upgrade that improved performance and added dozens of cool features to help you browse your music collection. Windows Media Center has undergone a major transformation, adding support for new technologies, such as high definition cable cards, as well as introducing an entirely new high resolution interface that looks amazing on your monitor or a high definition TV.
This chapter shows you how to customize your experience by taking advantage of some of these new features and fine-tuning how they work. To get started, you are going to use some great new audio enhancements to tweak how all types of media sound on your computer.
Adjusting Your Audio Experience
The audio system has gone through a major upgrade in Windows Vista. There are countless new features, such as the ability to control the volume per application, as well as many others that are unnoticed by the end user and hidden away. This section talks about those lesser known features and will show you how to take your audio experience to the next level. To do this, you are going to enable and tweak the new sound enhancements available on all newer high definition audio cards
The new audio enhancements are a collection of effects that allow you to do everything from boosting the bass to optimizing your surround sound using a microphone to get the perfect setup. These audio effects can be found on your output device properties. Follow these steps to get to the Enhancements settings tab:
Click the Start button and select Control Panel.

Click Hardware and Sound.

Click Sound.

The Sound properties screen will now load. Select the Speakers playback device and press Properties.

After the Speaker Properties window loads, click the Enhancements tab. All the enhancement effects are now displayed, as shown in Figure 7-1.


Figure 7-1: Windows audio enhancements

Simply check the enhancement that you would like to enable and then click the Setting button to fine-tune the operation.
As you can see, enabling and configuring the settings are easy to do, but before you start using these new enhancements, take a look at the next few sections describing the enhancements in detail.
Bass Boost
Bass Boost and Low Frequency Protection allow you to pump up the bass on your speakers. You can fine-tune the frequency and the level of the boost in dB, as shown in Figure 7-2. Experiment with what is best for your speakers, but I don't recommend setting it higher than 6 dB with most speakers. Otherwise, you might notice some detail lost in your sound.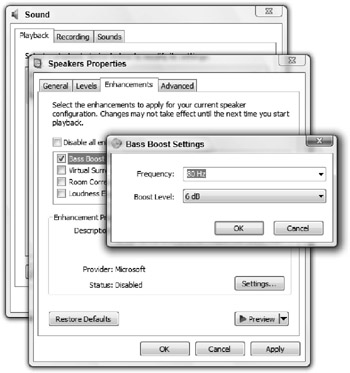 Figure 7-2: Using Base Boost
Virtual Surround
Virtual Surround allows you to output surround audio over stereo outputs to a receiver that supports Dolby Pro Logic or another matrix decoder technology to convert the signal into an analog surround sound system. This feature is useful only if you have a receiver that does not have a digital input and are forced to use an analog stereo input. For everyone else, this feature will not help you. Microsoft really should have called this feature something else. It really got my hopes up that it would simulate surround sound using my two stereo speakers the way those old Winamp plug-ins did several years ago.
Room Correction
The placement of your speakers and the size of the room greatly affect the performance of listening to music and watching movies. The Room Correction enhancement automatically calibrates the volume and delay for each speaker for the best possible sound quality. This cool enhancement works by playing various test sounds on all your speakers and using your microphone to record the result. Next, analysis of the results is performed and you are presented with optimal settings for each speaker. Simply OK the calculated settings and your sound is automatically optimized for all applications that run on your computer, including Media Center.
In my opinion, Room Correction is one of the best enhancements because it allows you to optimize your speaker system by just clicking a few buttons. I remember doing this with my surround sound receiver manually when I got a home theater system. This feature would have saved me a lot of time and the end result is better than a human ear could ever do.
Using Room Correction is very simple. While on the Enhancements tab, just check the option to enable it, press the Settings button, and follow these steps:
When the Room Calibration Wizard has loaded, click the Next button on the opening screen.

Select the microphone input you would like to use for the test. Make sure that you have a microphone plugged in to that input on your sound card. You can use any microphone for the calibration. If you have a studio quality omni-directional microphone, check This is a flat-rate, professional studio microphone. Click Next to proceed.

Position your microphone where you sit in your room. Make sure you elevate the microphone to roughly the height of your ears. For example, it is better to place your microphone on the armrest of a chair instead of the seat. Also make sure that your microphone is pointing straight up. When you are ready for the calibration test, press Next. It is best to leave the room when the test is running.

When the test is finished, press Next to view the results.

The results of the test for each channel will be displayed, as shown in Figure 7-3. When you are ready to apply the settings, press Finish.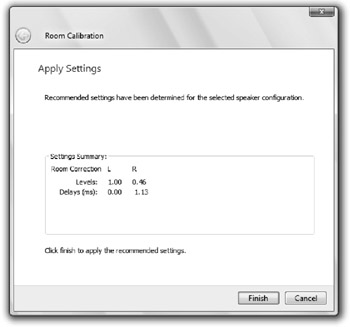 Figure 7-3: Using Room Calibration
After the calibration wizard is completed, the Room Correction enhancement setup is finished and will be active immediately.
Loudness Equalization
There are many different sources of audio on your computer and among all of these sources, the volume can vary drastically. Even within the sources, the volume can vary. For example, if you are watching a movie in Media Center, there will be times when you can barely hear people talking yet the background music in other scenes is very loud. The Loudness Equalization enhancement helps solve these problems by dynamically adjusting the volume on all the inputs so that they all sound constant.
The Loudness Equalization enhancement has only one setting that allows you to fine-tune the sample period. Click the Settings button to adjust it.
Headphone Virtualization
Available only on Headphone devices listed on the Playback tab, Headphone Virtualization allows you to simulate a surround sound system when using headphones. Say you are watching a DVD on your laptop on a trip; using this enhancement, you can enable special audio effects that simulate a five-speaker surround sound system using only two speakers. If you use headphones often, definitely give this enhancement a try.