You're a consultant asked to troubleshoot authentication problems for your company. The organization is comprised of a central corporate office and a branch office that's connected to the remote office with a 128 K WAN link.
At the remote office, users are intermittently logged on using cached credentials even though a DC has been located at the remote site to authenticate users. The structure of the network is shown in Figure 3.12.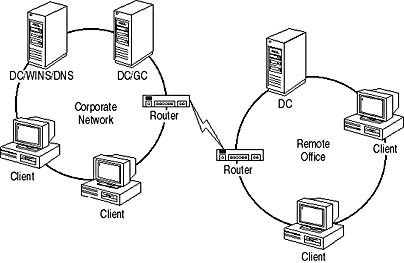 Figure 3.12 The network layout
Answer the following questions about this situation. The answers can be found in the appendix.
What would cause a user to be logged on using cached credentials?



Since cached credentials are used intermittently at logon for remote clients, how many domains must exist in the network?



What services must be added at the remote network to ensure that Windows 2000 clients can log on to the network?



Will down-level clients have problems at logon at the remote office?



Answers