You can augment information fields that display in the timesheet by adding custom fields, including standard custom fields and enterprise custom fields. Unfortunately, you may not delete or reorder the default fields provided in the system. When you add fields to the timesheet, they show up appended to the existing field display. It's typically necessary for a user to scroll the left pane of the display horizontally to the left to expose added fields.
The default fields displayed in the timesheet are the same for each tracking method; only the fields available for data entry vary. The default fields are as follows:
Indicator

Task Name

Work

% Work Complete

Actual Work

Remaining Work

Start

Finish

Update Sent

Project

Assigned to

Lead Name
To add globally available fields to the Timesheet display, first check out the enterprise global. From the Tools menu, select Customize

Published Fields to open the Customize Published Fields dialog box shown in Figure 12-10. In the figure, notice that the Enterprise Date1 field has been added to the tasks view by selecting it on the left and using the right arrow button to move into the published area. Also note that this is one of many displays where custom names of enterprise fields aren't fully visible. It's always essential to have a good written record of your field customizations.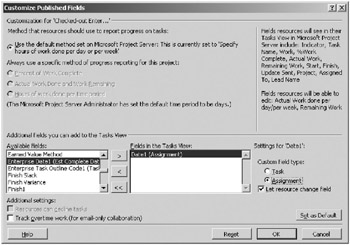 Figure 12-10. You use the Customize Published Fields dialog box to add fields to task views in Project Web Access.