An obvious and enduring benefit of working with templates is the cost savings realized by shortcutting the planning process. A well-structured template can take days or weeks out of the planning process by providing a precooked plan structure complete with a fundamental cost model. Your individual savings are determined by how easy it is to model your typical projects and how much time you invest in the process.
A less obvious reason to use templates is the opportunity they afford to take some control of the "nonenterprise" environment. I put that term in quotes because it's not a Microsoft term; it's my own. The Project Server environment templates offer the opportunity to use nonenterprise fields in an enterprise way. By embedding customizations to these with uniformity across the enterprise, you can co-opt nonenterprise fields and outline codes as pseudo-enterprise fields. The catch is that you don't really have absolute control of these. Project Professional users continue to have the ability to make changes to these, so this must be a trusted community.
Assuming that you can overcome this limitation through training and careful management, you can use templates to accomplish nonenterprise field management to a good degree. Suppose you want to get a value back from a resource at the assignment level. Because enterprise fields don't carry a discrete value at the assignment level, nonenterprise fields are the only way to capture data from users in the timesheets while preserving the data value at the assignment level. Another example is using nonenterprise fields to mirror enterprise values so that they can be exported to Project 2000 and Project 98. By defining the field customization in the template and requiring templates to initiate all projects, it's possible to distribute the customization across the enterprise.
You can also control other options through templates. You can control the settings in the Options dialog box (select Tools

Options in Project Professional) through templates. Once again, this isn't a foolproof method, as users can make changes to these settings on a project-by-project basis.
Creating an Enterprise Template
An enterprise template is a template saved to the Project Server database with the type designation in the Save dialog box specified as Template. You can create an enterprise template by creating a new project from Project Professional while you're connected to a Project Server, or by importing a project or template as a template as described in the section "Importing Projects" earlier in this chapter.
To create a template directly, start Project Professional, connect to a Project Server, and begin working in Project 1. It's not until you save a project that you can indicate that it's a template. Selecting Save or Save As from the File menu opens the Save to Microsoft Project Server dialog box shown in Figure 12-9. Note the Type field in the dialog box. This is what makes a template an enterprise template.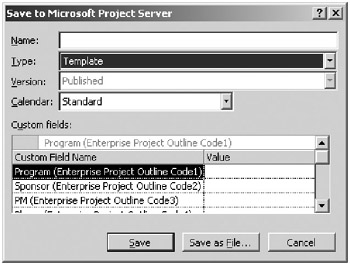 Figure 12-9. Select Template as the type in the Save to Microsoft Project Server dialog box.
| | | |
| --- | --- | --- |
| | Tip | Use templates to build templates. If you were to modify a number of nonenterprise project fields, it might be a good idea to keep a copy of the plan with just the field customizations before building various purpose-specific templates on top of that level of customization. |