45. Creating an Audioblog
BEFORE YOU BEGIN
1 Creating Your Blogger Account
2 Naming Your Blog
Using the services of Audioblogger, you can post audio clips of your voice to your blog simply by placing a phone call. If you don't have access to a computer with Internet access or a cellular phone with text message capabilities, you can still blog by voice. Picture yourself traveling through the countryside, musing about the beautiful surroundings, perhaps thinking, "I should really blog this." With audioblogging, you can just pick up the phone and tell the world what you see. But before you begin to audioblog, you must register with the service. To do so, go to http://www.audioblogger.com/ and click the Start Audioblogging Now button.
TIP
Check out Biz Stone's article "On The Road with Audioblogger" at http://help.blogger.com/bin/answer.py?answer=1050 for a great example of the usefulness of audioblogging.
45. Creating an Audioblog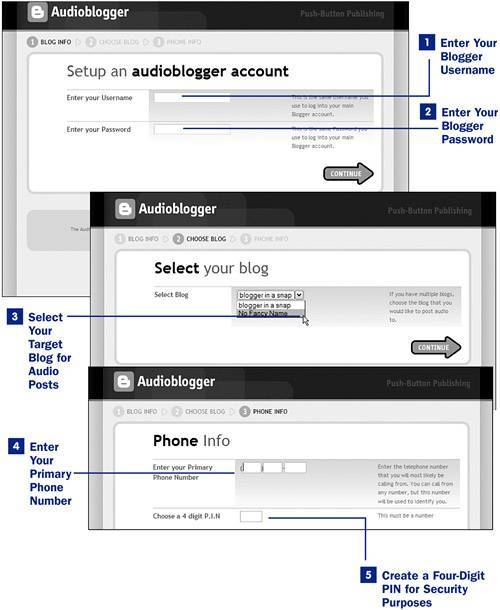 1.

Enter Your Blogger Username

Registering with Audioblogger requires you to have a Blogger account already created. Type your Blogger username in the Enter Your Username field.



2.

Enter Your Blogger Password

Type your Blogger password in the Enter Your Password field. Click the Continue button to go to the next step in the process.



3.

Select Your Target Blog for Audio Posts

All Blogger blogs associated with your username will be displayed in a drop-down menu. Select the blog to which you want to publish your audio posts from the Select Blog drop-down list and then click the Continue button to go to the next step in the process.



4.

Enter Your Primary Phone Number

In the Enter Your Primary Phone Number field, enter the area code, prefix, and remaining four digits of the primary phone number that you will use to send your audio posts.



5.

Create a Four-Digit PIN for Security Purposes

Create a four-digit personal identification number, enter it in the Choose a 4-Digit P.I.N. field, and click the Finish Setup button. You are now ready to begin audioblogging!


The final step in the audioblogging process is to actually record and publish an audio post. The call-in number is 415-856-0205, and this number is also displayed prominently on the Audioblogger home page at http://www.audioblogger.com/. Call that number from the phone you entered as the primary phone number, and follow the prompts to send the post. You will need your four-digit PIN to complete the process.
6.

Listen to Your Audio Post

After you record and publish your audio post through the Audioblogger telephone interface, it is made available on your blog and looks like the figure shown here. By default, audio posts do not have titles, so you might want to edit your post to give it an actual title, as well as add any text below the graphical link to your audio file.