There are a variety of ways to check your Gmail account from your device.
Maybe you've had a Gmail account since Gmail invites were going for $50 on eBay; maybe you're a new user. So what is the best way to access it from your BlackBerry? Well, it depends. Are you a BES user? Does your IT policy restrict access to the BlackBerry Web Client? Does your carrier supply only a severely limited WAP browser? Even if you're in a high security environment, chances are you can access the world's best free email service. Here are six ways to access your Gmail from your BlackBerry.
2.9.1. Redirect Gmail to Your BES Account
If you are a BlackBerry Enterprise Server user, the quickest and easiest way to get your Gmail delivered to your device is by setting up your Gmail account to forward all your mail. In your Gmail account, go to Settings
Forwarding and POP (see Figure 2-20). Select the option for Forward a copy of incoming mail to and fill in the email address of your BES account. You can choose to keep a copy of each email message in your Gmail inbox, archive a copy, or trash the Gmail copy. If you are going to access your Gmail using the other methods in this hack, go ahead and keep a copy of the message in your inbox.
Figure 2-20. Gmail's Forwarding and POP settings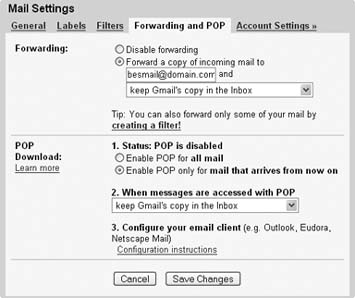 2.9.2. Set Up POP and Use the BWC
If you feel a little queasy sending your personal Gmail messages to your corporate email account, you can enable your Gmail account for POP access and use the BlackBerry Web Client to access it. In your Gmail, go to Settings

Forwarding and POP. Select the checkbox next to "Enable POP only for mail that arrives from now on." Then set up your BlackBerry Web Client with your Gmail address as the username and your Gmail password. Theres even a walk-through on Gmail's Help Center specifically for setting up the BlackBerry Web Client to access your Gmail.
| | |
| --- | --- |
| | Because the BlackBerry Web Client has to poll your mailboxes before delivering mail to your device, there will be delays of up to 15 to 20 minutes before receiving some messages. However, when using a BlackBerry Enterprise Server with Microsoft Exchange, you'll get your messages to your device almost instantly. This is because the BES uses MAPI connections with Exchange and receives instant new mail notifications a feature that sets Exchange apart from its competitor Lotus Domino. |
2.9.3. Use a Browser to Access Gmail's HTML Version
It used to be that if you wanted to access Gmail with an older browser on your computer, you were out of luck. Gmail uses some complex JavaScript techniques that require a relatively modern browser on your desktop. Although supported in BlackBerry 4.0, the JavaScript implementation in the BlackBerry Browser isn't hearty enough to handle Gmail's code.
Luckily, Google has fairly recently created an HTML-only version of Gmail. This allows you to access your Gmail account with the built-in BlackBerry Browser or a third-party browser like WebViewer [Hack #66]. Just point your handheld browser of choice to http://gmail.google.com, and Gmail will do some JavaScript sniffing to determine that your browser is best suited by their HTML version. You'll know you're accessing the HTML version by the notice at the top of the page, as shown in Figure 2-21. WebViewer also provides nice access to the HTML version of Gmail.
Figure 2-21. Gmail's HTML version in the BlackBerry Browser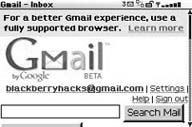 2.9.4. Use EmailViewer via Gmail's POP Interface
Just as you would access your Gmail using POP from your computer's email client, you can use the EmailViewer application [Hack #67]. You'll set up the connection much as you would any standard POP mail settings. Gmail's help pages include an article for setting up a generic email, available at http://gmail.google.com/support/bin/answer.py?answer=13287&topic=194.
Note that EmailViewer doesn't support Gmail's implementation of SMTP over SSL. Just leave the SMTP settings blank in EmailViewer to use ReqWireless's mail relay service.
2.9.5. Use gmail-mobile to Access Gmail via WAP
If you're restricted to using the carrier-provided WAP gateway, you can use a nifty PHP application that provides a WAP interface to Gmail. There are various sites that have this software installed already. If you choose to use one of them, you'll need to realize that your Gmail username and password are easily accessible by the site hosting the gmail-mobile application. Luckily, the gmail-mobile project is open source software, so you can download the source and install it on your own PHP-enabled Apache web server. The interface provided by gmail-mobile, shown in Figure 2-22, turns out to be the most convenient and usable of the solutions that don't involve using the BlackBerry Mail app through a BES or the BWC. It even provides support for labels and shows your overall Gmail storage usage.
Figure 2-22. The WAP interface provided by gmail-mobile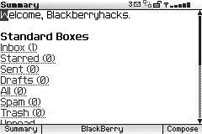 2.9.6. See Also
gmail-mobile (http://gmail-mobile.sourceforge.net)

"Use Gmail as a Spam-Catcher" [Hack #48]