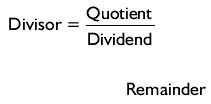 It was discussed in a previous chapter that a difference is the summation of a term and the inverse of a second term using the additive inverse algebraic law. A division is also a play on an equation transformation: a multiplication of the dividend by the reciprocal of the divisor.

Some instruction sets, such as 3DNow!, do not directly support floating-point division but do support the product of a reciprocal.
(Vector) SPFP Division
Mnemonic
P
PII
K6
3D!
3Mx+
SSE
SSE2
A64
SSE3
E64T
DIVPS
---

32/64-Bit 80x86 Assembly Language Architecture
ISBN: 1598220020
EAN: 2147483647
Year: 2003
Pages: 191
---
Similar book on Amazon
---