The main Windows Messenger screen gives you an idea of the possible actions you can take. For example, you can add contacts with whom you can chat, send an instant message, send a file, or start a voice or video conversation. One of the things you will be doing with Messenger is communicating with people using IM, and before you can do so, you have to add to Messenger the contacts with whom you want to communicate.
To add contacts to Windows Messenger, follow these steps:
1.

With Windows Messenger open, in the I Want To section, click Add a Contact. The How Do You Want to Add a Contact? page appears (see Figure 5.8).



Figure 5.8. Adding a contact.




2.

Click By E-mail Address or Sign-in Name and then click Next.



3.

On the next page, enter your contact's email address and then click Next.



4.

On the Success page (see Figure 5.9), click Next to add another contact or click Finish if you are done adding contacts.



Figure 5.9. Successfully adding a contact.



You should now see your contact listed under All Contacts. The person you added to your contacts list gets a notification that you have added him or her to your contact list. That person has the option of allowing or denying you the ability to see when he or she is online. Your intended contact can also add you to his or her contact list at the same time (see Figure 5.10).
Figure 5.10. Add Contact notification.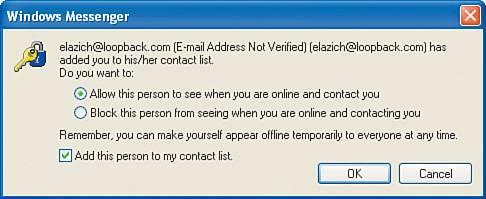 About Passport
Microsoft provides Passport as a single sign-on solution. The idea is that you go to a central site (in this case, the Microsoft Passport site)and create an account that you will use on any website that supports Passport authentication. The nice thing about single sign-on is that you can move from site to site to site and not have to continually provide your credentials after the first site you connect to. (This, of course, assumes that each site in the sequence supports Passport authentication.) With Windows Messenger, Passport is used as the central authentication mechanism when you first sign on to your Messenger session.
To continue, your intended contact has to make a selection on the screen shown in Figure 5.10 and then click OK.