What's hard for some people moving to Linux is saying goodbye to certain familiar applications. One of the most commonly used email packages in the Windows world is Outlook and its cousin, Outlook Express. Those users will feel right at home on their new Linux desktops when they fire up Evolution. A look at Figure 10-10 will no doubt seem extremely familiar. In fact, Evolution looks and feels like Outlook but with some very important improvements.
Figure 10-10. Evolution will make Microsoft Outlook users feel right at home.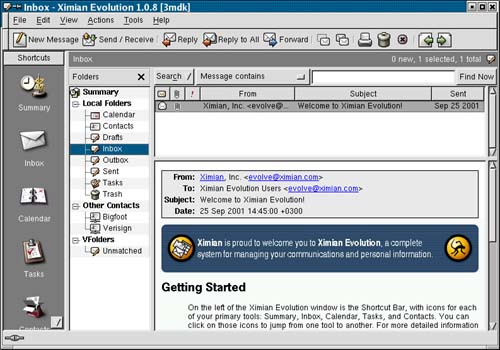 Once again, it is likely that you will find Evolution on your distribution CD. Another way to get a copy is to head over to http://www.ximian.com, the site of the Evolution authors.
Upon starting Evolution for the first time, you will be presented with the Evolution Setup Assistant to take you through the various preparatory steps. After clicking Next through the introductory window, you'll be asked for your default identity. This is where you enter your full name and email address, along with other options, such as a default signature (Figure 10-11).
Figure 10-11. Evolution's Setup Assistant.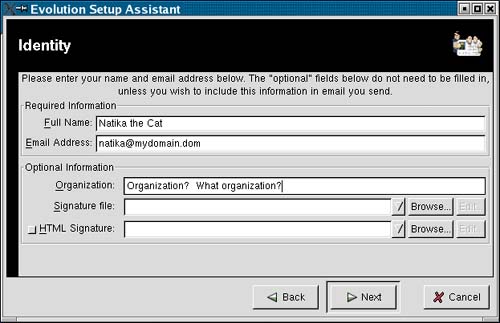 When you are done, click Next, and it will be time to enter information for receiving mail. You start by selecting a Server Type. For most users, this will be POP or IMAP (as with Kmail earlier). Enter the host name of the POP3 or IMAP host (as provided by your ISP), as well as your user name. If you don't want to enter your password each and every time Evolution checks for mail, you should click the "Remember this password" check box. When you click Next, you'll have the opportunity to decide whether Evolution checks for mail automatically (the default is to check every 10 minutes). Don't set this unless you are always connected. Click Next again, and you will be able to configure your outgoing mail.
The default Server Type for sending is SMTP, and that is almost certainly what you will need. Enter the hostname as provided by your ISP (or system administrator), and click Next. The Account Management screen follows with your new email account listed as it will be displayed in Evolution. You could change this to be a name rather than an email address if you prefer. If this is your initial setup, leave the button labeled Make this my default account checked on, and click Next.
You are almost done. The final step is to select your time zone. Select an area on the map (preferably near to where you live) to narrow down your search. The map will zoom in to the area you clicked, allowing you to fine-tune your selection (Figure 10-12). Make your final selection (you can use the drop-down box to aid in your selection), click Next again, then Finish, and you are done.
Figure 10-12. Evolution's Setup Assistant zooms in to help in selecting your time zone.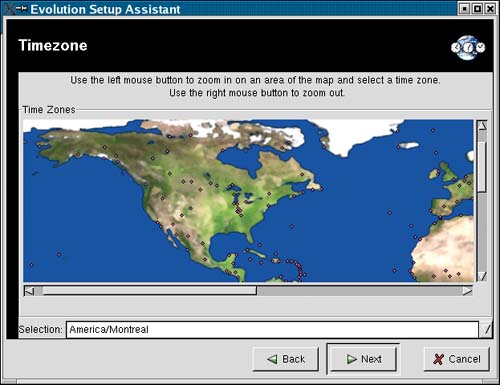 Evolution starts up with a summary screen (Figure 10-13), showing you the weather for an area of your choice, your Tasks and Appointments lists for the day, as well as a summary of what is in your inbox and your outbox. Like the Outlook package in Windows, a set of icons runs down the left-hand sidebar, giving you access to your Calendar, Tasks, Contacts, and email.
Figure 10-13. Evolution's summary screen.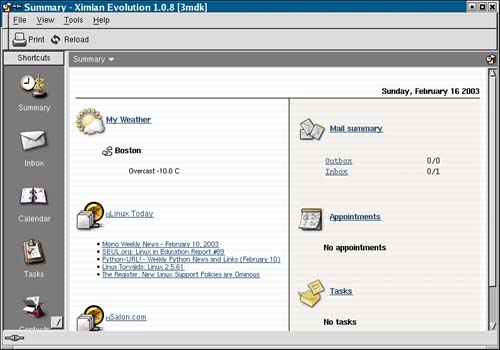 Sending and Receiving Mail
To send a message, start by clicking on the Inbox icon (under the Shortcuts sidebar), then click the New Message button just below the menu bar (you can also click File on the menu bar and select New Message from there). Evolution's compose window will appear (Figure 10-14).
Figure 10-14. Sending a message with Evolution the compose window.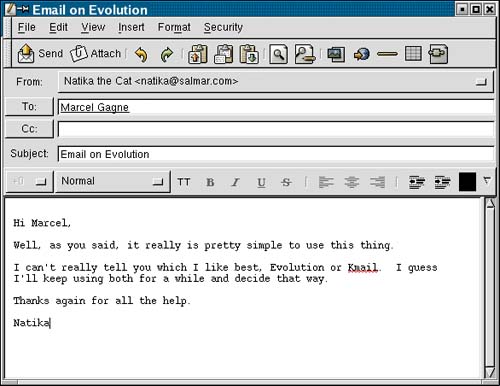 As with Kmail, this is pretty standard stuff. Fill in the person's email address in the To: field, enter a Subject, and type your message. When you have completed your message, click the Send button on the compose window (or click File on the compose window's menu bar, then select Send).
To pick up your email, make sure once again that you have the Inbox button selected, then click the Send/Receive button at the top of Evolution's main window (or click Actions on the menu bar and select Send/Receive).
The first time you pick up your mail, Evolution will pause and ask you for the password (Figure 10-15). You have an interesting choice to make here. Beside the words Remember this password is a radio button that lets you lock in the information. If you choose not to record your password with Evolution, you will have to enter your password each time you check for mail.
Figure 10-15. Remember the password?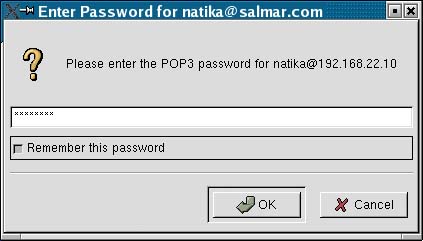 Like Microsoft Outlook, Evolution is an integrated contact management, email, and scheduling system all in one. Aside from basic email functionality, you can also plan your day, set alarms, keep a contact list, and more.
What to Use?
As to whether you use Kmail or Evolution (or some of the other options I'll mention in a moment), this is something you will have to experiment with in order to decide. Personal preference is a huge factor here. I, for one, do not particularly enjoy integrated clients such as Evolution. I want my email package to be an email package only (for scheduling, I may decide to use another tool). Others can't imagine using anything other than Evolution for reasons that are exactly opposite to the one I mentioned. It's your system and your choice. The best way to discover what you want is to try things out.