Liquid Edition has two main interfaces: the Timeline and the Storyboard. The default interface is the Timeline, but by swapping to the Storyboard, you can begin an assemble edit of your project. With most NLE programs with less sophisticated storyboard functions, you might be tempted to head directly to the Timeline after capture in order to start editing right away, especially when the storyboard seems like an extra step. However Liquid Edition's storyboard is much more efficient and an easier way to visualize the first step. And since you can drag and drop, or send the storyboard results directly to the Timeline, it's not an extra step after all. If you are serious about creating a project that is polished in appearance then the storyboard should be your next stage after you have captured or imported your footage.
Users of dual-screen displays should read the information in the "Dual-Screen Users" sidebar as all the examples here are for a single-screen display.
To open the Storyboard interface
1.

Click the Eye button to open the various view options (Figure 5.1).



Figure 5.1. The Eye button shows various view options.




2.

Click the Storyboard icon (Figure 5.2) so that your Liquid Edition desktop looks like Figure 5.3.



Figure 5.2. Click this icon to open the Storyboard layout.




Figure 5.3. The Storyboard layout shows the Liquid Edition desktop with five Storyboard elements and their master clips contained in the Project Browser.



Tip
Dual-Screen Users
If you have a dual-screen display, the Eye icon button will display the dual-screen range of options (Figure 5.4).
Figure 5.4. The dual-screen view options.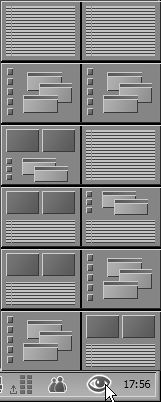 To see the various options in action, simply click each one. The second icon from the bottom will probably be the one you'll want to use the most. This places the Storyboard on the right monitor and the inlay screens and Timeline on the left monitor (Figure 5.5).
Figure 5.5. If you have no inlay on your secondary monitor, use this layout.
Some graphics cards will not support an overlay on the secondary monitor; users with this type of card will need to use the option shown in figure 5.5; otherwise, they will see a blank inlay when playing clips.
The main advantages of having a dual-screen setup are:
You will be able to display a much longer Timeline (Figure 5.6).

Figure 5.6. The Timeline extended across both monitors on a dual-screen setup.




You can display both the Storyboard and the Timeline at the same time (Figure 5.5).

You can display the full library of FXs without having to constantly switch screens (Figure 5.7).

Figure 5.7. If the Timeline is restricted to the left monitor, it is then possible to give the Project Browser even more room. Here the real-time transition editors are displayed.