Importing S/VCD and VOB Files
If you try to import a VCD/SVCD or VOB file, a dialog will appear displaying the available audio and video tracks (Figure 3.17). VOB files may display more than one audio file; this will probably contain the different language versions built into the DVD.
Figure 3.17. If you choose to import an SVCD or VOB file using this screen, you will be able to preview the file before you finish importing it.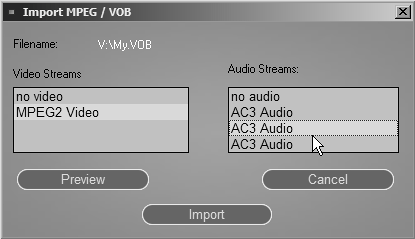 Once you have decided which audio track to use, click Preview to bring up a small inlay window inside which the VCD/SVCD or VOB file will play (Figure 3.18). Click Import to import the files.
Figure 3.18. The Preview window open under the selection screen once the Preview button is clicked.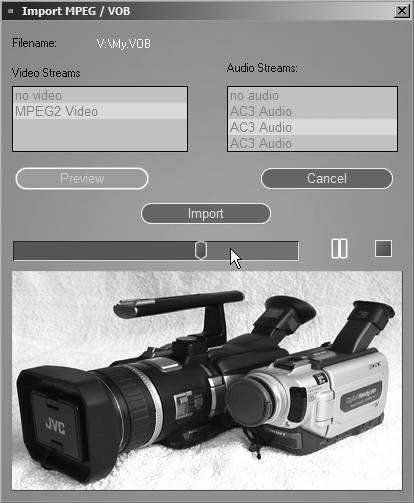 Although you can import a VOB file (video objectMPEG-2 compliant files found on a DVD) into Liquid Edition, because of copyright restrictions, you must first copy it to your hard drive. You can acquire many popular tools on the Internet to do this.
You must also have an AC3 codec installed on your computer to use the audio in a VOB file. Codecs are freely available from http://ac3filter.sourceforge.net.