The actual process of transferring your project to DVD happens on this tab (Figure 12.32). This interface is fairly straightforward, but here are some tips for using this tab:
If your DVD player doesn't show up in the DVD Burner box, click Search and Liquid Edition scans for it.

If your DVDs fail to burn correctly, try lowering the speed if you can.

Don't forget to rename the disc volume; otherwise, whenever you put this DVD into a computer, it appears in Windows Explorer with the default Disc Volume NamePinnacle Systems DVD.

Use a DVD+RW or -RW for your first copy to make sure the DVD burns correctly and that it contains no errors when you play it back. You can use rewritable DVDs many times, so they can prove to be an economical saving when you're dealing with the not entirely risk-free world of DVD burning.
Figure 12.32. The Burning tab.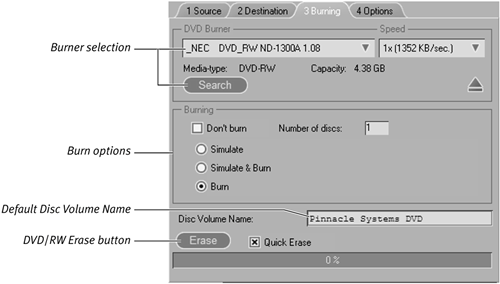 To start the burn process
Once you're happy with all the settings, start the burn process by clicking the check mark at the bottom of the Export dialog box (

Figure 12.33

).



Figure 12.33. Click the check mark to begin the burn process.


Once you click here, the DVD Render engine begins its long job of getting everything rendered before it burns to DVD.


Tips
If you haven't rendered the Timeline and yellow or red slices are present, you receive an error message telling you that the process can't continue because of missing media. In this case, the missing media are the render files. To correct this, simply exit the error message and then open up the Render box to make sure the Include yellow slices box is selected. Don't forget, the DVD menu generates a yellow slice all by itself.

If you are creating a file with the Program Stream preset, for example, the burn options will be grayed out. In this case, clicking the check mark will create an MPEG file. See the section "Alternatives to creating DVDs…" later in this chapter for more details.