When you are assigned a To Do from another individual (say, for example, your boss!), you will receive an e-mail notification.
Click on the Mail Bookmark. Your mail will appear.

Double-click on the To Do notification that you want to look at. The To Do item will open.
There are three buttons at the top of the To Do notification.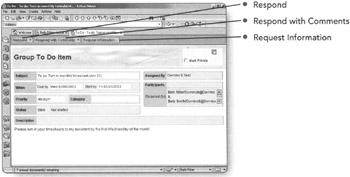 Let's go over each option.
Respond
Respond allows you to accept, decline, delegate, propose a new date, or mark completed a Group To Do. These options work much the same way as meetings.
Click on Respond. The Respond menu will appear.

The Respond menu gives you several options regarding how to handle the To Do notification.

Accept. Accepts the To Do and will add it to your Group To Do list.

Decline. Declines the To Do item.

Delegate. Assigns the To Do to someone else.

Propose New Date. Not really an accept and not really a decline. You can propose a new due date for the To Do.

Completed. Marks the To Do as Completed.
Respond with Comments
The Respond with Comments option gives you the same menu options as Respond, but with one addition—you can add your own comments when either accepting, declining, delegating, proposing a new date, or completing a To Do item.
Request for Information
The Request for Information option allows you to ask the person who assigned the To Do item to you for more information regarding the task.
Click on the Request Information button. The Reply Notice will appear.

Type in your comments.

Click on Send. You will be returned to the To Do item.

| | | |
| --- | --- | --- |
| | Note | If you decide that you don't want to request information, there is no way out of the message. If you try to close the window without sending, it will not allow you to. |