There are several different ways to access your e-mail. You choose which method works best for you and fits your own individual needs.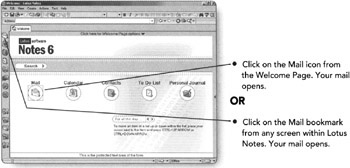 OR
You can also use the Workspace Page to open your e-mail. If you have used a previous version of Lotus Notes, you might be more familiar with the Workspace Page.
To open your mail from the Workspace Page follow these steps:
Click on the Databases icon on the Bookmark Bar. The Databases folder will open.

Click on the Workspace icon in the Databases folder. The Workspace will open.

Double-click on the Mail icon titled with your name with a picture of an envelope. Your mail will open.