Lotus Notes provides several database designs "out of the box" which you can use to create your own databases. Here are just a few of those templates that you might find useful.
Discussion Database
The Discussion Database template can be used for a team to share their thoughts and ideas. Almost any group that has information to share among its members can use a discussion database.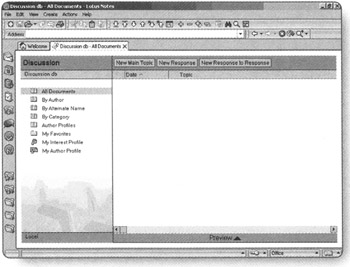 The Discussion Database is simple to use. Just browse through discussion topics and responses that others have contributed. Discussion history is preserved in the group's discussion database and is helpful to keep everyone up to speed on the current tasks and issues going on with the team. The user can even compose her own responses to others' comments or propose new main topics for discussion.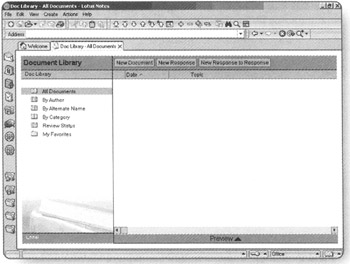 Document Library
A Document Library application is an electronic filing cabinet that stores reference documents for access by team members. It provides you a way to capture and track information about documents that your team may use. It also allows for a review cycle to be set up to route documents to a series of recipients. You might even set up the Archive ability to move expired documents to an archive database.
TeamRoom
TeamRoom is a tool for information sharing and collaboration. It provides a place where your team can: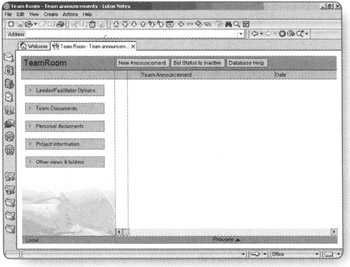 Raise and discuss relevant team issues and concerns

Create (collaborative) products such as memos or presentations

Manage team documentation effectively

Brainstorm

Prepare for meetings

Track meeting agendas and resulting action items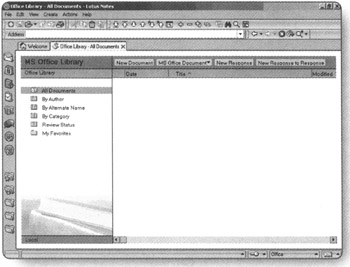 Microsoft Office Library
This database gives Notes users the ability to seamlessly create and save documents using Microsoft Word, Excel, PowerPoint, or Paintbrush, without leaving Notes. In addition, the library serves as an electronic filing cabinet for these documents, making it easy for all members of a team to locate, update, and print desired documents. Other features included are archiving and review cycle capabilities.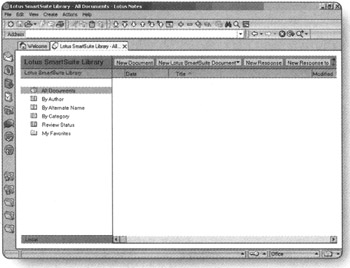 Lotus SmartSuite Library
This template is very similar to the Microsoft Office Library template. It also gives Notes users the ability to seamlessly create and save documents, but instead of supporting Microsoft Office products, it is for using Lotus SmartSuite Word Pro, 1-2-3, Freelance, or Paintbrush.