Generally speaking, it's easy to download and install the software that effectively turns your Centrino laptop into a telephone.
The steps are similar to those you follow anytime you download and install software from the Internet:
| | |
| --- | --- |
| 1. | First, make sure that you trust the vendor of the software and that your antivirus software is up to date (see Chapter 17, "Protecting Your Mobile Wi-Fi Computer," for more information about antivirus software). |
| 2. | Next, download the VoIP software using the download link (or button) provided by the vendor. |
| 3. | Run the installation program provided by the software. |
| 4. | Finally, follow the registration process to open an account with the VoIP provider. |
I'll show how this process works with two of the most popular VoIP providers, Net2Phone and Skype, and how to make your first call with each.
Net2Phone
First, open the Net2Phone site, and find the PC to Phone Telephone Service link, and then click it.
The Download link is on the extreme left; click it. You will be taken to the Download page for Net2Phone CommCenter. Click the Download Now button shown in Figure 6.6, and follow the more-or-less standard installation process. Once the software has been installed, you will be asked to initiate the registration process, which is different for new customers as opposed to returned customers (see Figure 6.7).
Figure 6.6. Click Download Now to start the Net2Phone installation process.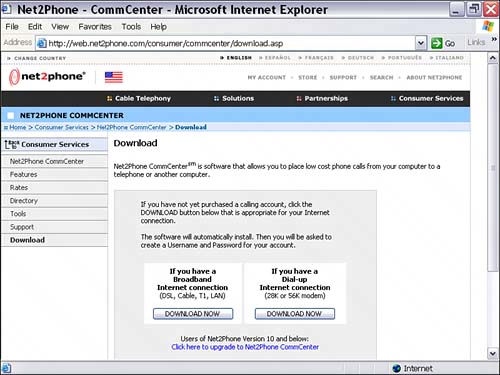 Figure 6.7. If you are a first-time user, you need to set up an account.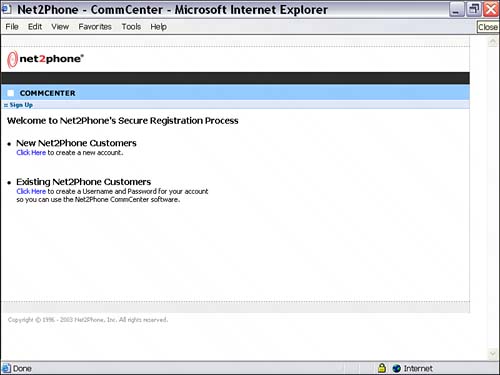 The information you provide to create an account is basically standard contact information, as you can see in Figure 6.8, and does not include credit card or other payment information.
Figure 6.8. You must provide contact information to open a Net2Phone account.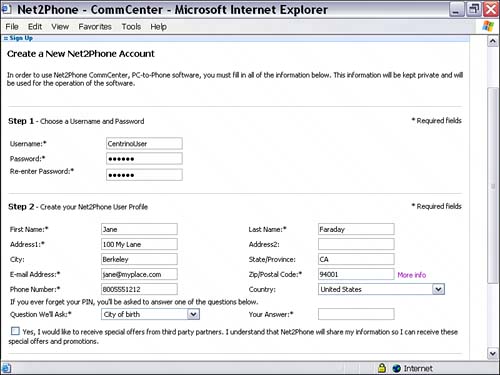 With your registration information complete, you can now log in to the Net2Phone CommCenter. The first time you log in, the software will check the sound level of your speaker (or headset) and microphone.
TIP
You might want to be careful to uncheck the Yes, I Want to Receive Special Offers box shown at the bottom of Figure 6.8. (Who needs extra emails?)
When sound check is complete, you can place a phone call. As shown in Figure 6.9, this is simplicity itself.
Figure 6.9. To make a call, use the phone-like "keypad" to enter the number, and click Dial.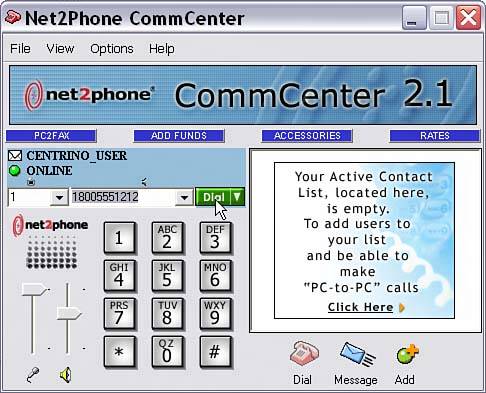 Use the virtual keypad to enter the number you want to call, and click dial. You'll hear a dial tone, and then ringing, and then someone picking up the phone at the other end (that is, if someone is there).
A couple of things worth bearing in mind: Your user experience will be greatly improved if you use a headset rather than the speakers on your mobile computer. I mentioned a supplier of headsets earlier in this chapter; you can also buy them from Net2Phone.
Also, if you don't have any money "on file" with Net2Phone, your call will not go through until you have added some funds to your account using a credit card. So you might want to click the Add Funds button before you start placing calls.
Net2Phone VoIP calling is free when the call is placed computer-to-computer to another Net2Phone user. The process works similar to instant messaging, and you initiate the process by clicking the Message button shown in Figure 6.9. To place this kind of "message," your counterparty needs to be up and running with Net2Phone, and you need to add him or her as a contact. (Click the Add button to add a Net2Phone user to your active contacts list.)
Finally, you might find the mobile computer to fax service provided by Net2Phone handy. In effect, this service means that there's really no need for you to maintain a separate fax machine because faxed documents can be retrieved electronically (at a very low per document cost).
Skype
Skype works in much the same way as Net2Phone, with paid (but cheap) international calling, and free contact with other Skype users. However, as opposed to Net2Phone, which is more or less a telephone service, Skype is promoting itself as a way of life along with file sharing and more conventional instant messaging.
Figure 6.10 shows the opening page of the Skype website, http://www.skype.com.
Figure 6.10. Click the Download button to get started installing the Skype software.
Click the Download button shown toward the upper right of Figure 6.10 to start the process of downloading and installing the software.
When the software has been downloaded, run the Skype installation utility.
After the software has been installed, you will be asked to create a Skype account, as shown in Figure 6.11.
Figure 6.11. When installation is complete, you will be asked to create a Skype account.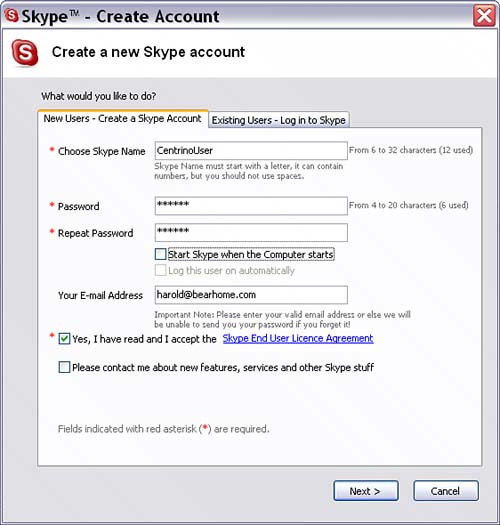 After you have provided a Skype name and password, click Next. You will then be asked to complete an optional profile screen. If you plan to be an extensive Skype user, it is probably a good idea to supply at least some of this information.
Note
You'll likely want to make sure that the Please Contact Me box shown in Figure 6.11 is unchecked. You should probably also uncheck the Start Skype When the Computer Starts box. Automatically starting VoIP software such as Skype poses a potential security riskparticularly if you forget that it is running.
Once you have updated your profile, the Skype window will open, shown in Figure 6.12.
Figure 6.12. When you've updated your profile, the Skype window will open.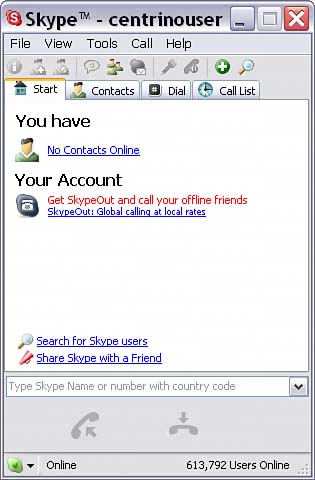 To dial a call, click the Dial tab, shown in Figure 6.13.
Figure 6.13. The Skype Dial tab is used to place calls.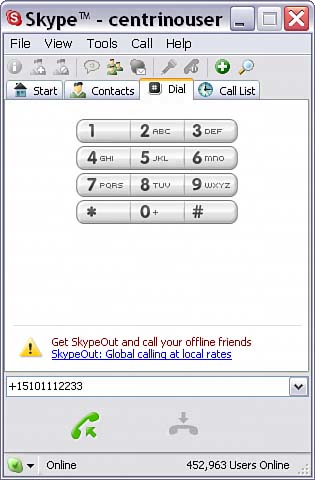 You can enter a number to call using the virtual keypad shown in Figure 6.13, or by using your mobile computer's keyboard to enter the number directly in the drop-down list shown toward the bottom of Figure 6.13.
With the number entered, to place the call, click the telephone receiver icon toward the bottom left of the Dial tab. Your phone call will be placed.
Note
Note that Skype expects you to enter a plus sign followed by a country code, even for local calls.
Although Skype calls to other Skype computer users are free, as with the Net2Phone service, you cannot place a phone call to a conventional telephone number without first loading your Skype account with some money (to pay for the call). In Skype lingo, this is called "activating SkypeOut" by buying SkypeOut credit, as shown in Figure 6.14.
Figure 6.14. To place a call to a conventional phone number, you need to active SkypeOut, meaning fund your account.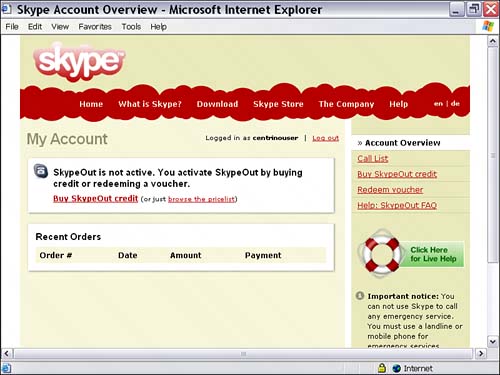 It's a great virtue of Skype that you can place a "call" to other Skype users free, but of course you must know their Skype contact name to be able to do this. If you don't already have some Skype friends, Figure 6.15 shows the search screen you can use to look for users who might want to talk with you.
Figure 6.15. You can search for other Skype users to talk with for free.