Things change! There's never any doubt about that, particularly in the world of technology. Standards move on; bugs are found; methods are improved.
It's good to know that if there's reason to change something important about the logic embedded in your wireless access point, you generally can. Updating this logic is done via the process known as a firmware upgrade.
Firmware for an access point is generally updated using the administrative application for the access point. The details differ depending on the access point and its administrative program.
TIP
You should particularly keep your eyes open for firmware updates if you have bought a wireless access point that uses a "bleeding edge" standard in which all the details have not been resolved.
For example, to update the firmware associated with the D-Link AirPlus Xtreme Wireless Router, with your unit connected to the Internet, open the D-Link's administrative program. Click on Tools to open the Administrator Settings panel shown in Figure 15.5.
Figure 15.5. Start by clicking the Tools tab and opening the Administrator Settings panel.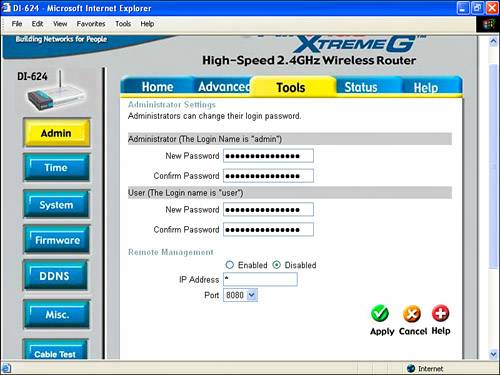 Next, click Firmware. The Firmware Upgrade panel, shown in Figure 15.6, will open.
Figure 15.6. The Firmware Upgrade panel shows you the current firmware version, providing a link to information about firmware updates and a mechanism for loading a new firmware file.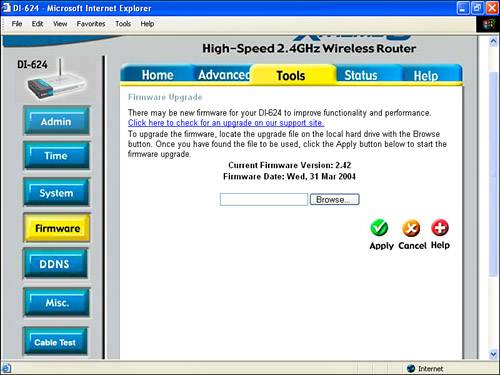 Make note of the current firmware version for your access point (shown in the Firmware Upgrade panel in Figure 15.6). Next, follow the Click Here to Check for an Upgrade on our Support Site link.
On the D-Link support site, enter your access point's model number as shown in Figure 15.7. Click the Go button.
Figure 15.7. After you've made note of your current firmware version, you can search the vendor's site for firmware upgrades to download.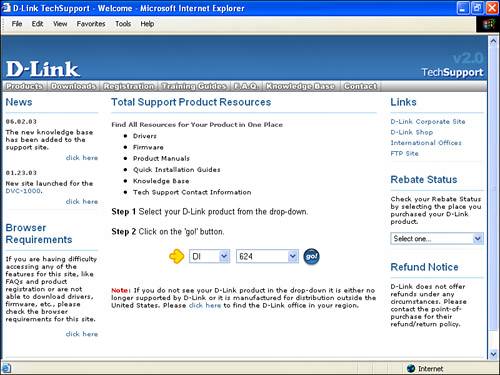 Depending on the results of your search, check to see if there is an updated version of the access point's firmware (compare the available versions with the firmware version that you noted on the Firmware Upgrade panel).
If a more recent version of the firmware exists, download it to your computer, noting the location in which the firmware file was saved.
Next, go back to the Firmware Upgrade panel and click the Browse button. Locate and select the updated firmware file that you saved on your computer.
Click Apply. The Firmware update will be loaded in to your access point.