3.2 System Manager
The Exchange System Manager is an MMC console for managing Microsoft Exchange 2000 Server objects and containers, including servers, connectors, protocols, administrative groups, routing groups, policies, storage, public folders, address lists, and offline address lists (Figure 3.5). System Manager provides a graphical view of Exchange objects. The left pane of the System Manager window is a hierarchical view of the Exchange objects. The right pane includes details for the objects selected in the left pane. You can move or copy most objects between containers using drag-and-drop or cut-and-paste operations.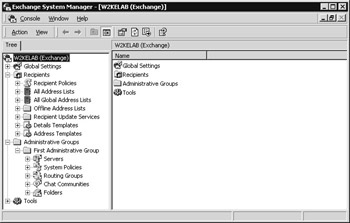 Figure 3.5:

The Exchange System Manager window
You can start System Manager from the Windows 2000 Start menu by selecting Programs Microsoft Exchange System Manager.