You can view reports at the site collection level, which gives you detailed information about user activity on sites in the site collection in which auditing is enabled.
Viewing the Audit Reports
Browse to the top-level site in the site collection.

From the Site Actions menu, select Site.

Under Site Collection Administration, click Audit Log Reports.
The reports are grouped into four sections as shown in Figure 6-25.
Content Activity Reports These reports display edits, additions, deletions, and viewing of documents and items in the lists and libraries to which the audit policy has been applied.

Custom Reports These reports give you the flexibility to design a custom report that can show any combination of information from other reports, as well as filter the details to show only a single user or a date range.

Information Management Policy Reports These reports display the events associated with the Expiration policy and all events that involve modifying Information Management Policies on a site.

Security and Site Settings Reports These reports do not depend on any policies being enabled in lists or libraries and always show any changes to auditing settings and security settings applied to the site.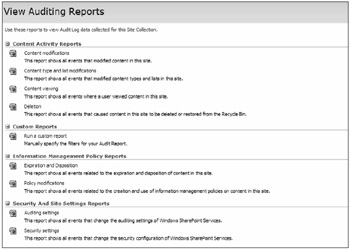 Figure 6-25: To view auditing reports, browse to the Site Collection > Site Actions > Audit Log Reports.
Office SharePoint Server 2007 provides a means of tracking the implementation of Information Management Policies in the server farm through centralized reporting. All reports are outputted in XML-formatted files that can be opened in Excel 2007 or another XML viewer. By default the policy reporting is not turned on and must be enabled to generate and view reports.
Enabling Information Management Policy Usage Reporting
Open SharePoint 3.0 Central Administration and click on the Operations tab.

Under Logging And Reporting, click Information Management Policy Usage Reports.

To have Office SharePoint Server 2007 generate reports on a scheduled basis, check the box to enable recurring reports and specify the report schedule.

In the Report File Location text box, type the URL address for the document library that will hold the reports. This is a relative address such as "/IMReports."

To apply a custom template to the report generation process, type the URL address to the template in the Report Template box.

To generate reports immediately, click Create Reports Now.
Viewing Policy Reports
Browse to the document library designated to hold the reports.

Click on the report that you want to view. It will open in Excel 2007 if that software is installed on your workstation; otherwise you can download it.