8. About Windows Update
| BEFORE YOU BEGIN | SEE ALSO |
| --- | --- |
| About the Windows XP Environment | Create a System Restore Point |
Microsoft is constantly updating the Windows XP operating system. Small bugs in the software and security fixes are identified, and Microsoft makes a patch or update available to fix the newly identified issue.
It is important that you keep your Windows system up to dateparticularly because of the fairly frequent security issues that crop up related to exploits found in the Windows system. You don't want to leave your system open to viruses or other software attacks, and you certainly don't want to make it easy for someone to secretly connect to your computer and steal information or use your computer to attack another computer such as a web server on the Internet.
How automatic updates are run on your PC is really up to you. If you access the Windows Security Center from the Control Panel, you can click the Automatic Updates icon to view the current settings in the Automatic Updates dialog box.
The Automatic Updates dialog box allows you to control when and how automatic updates are installed on your computer.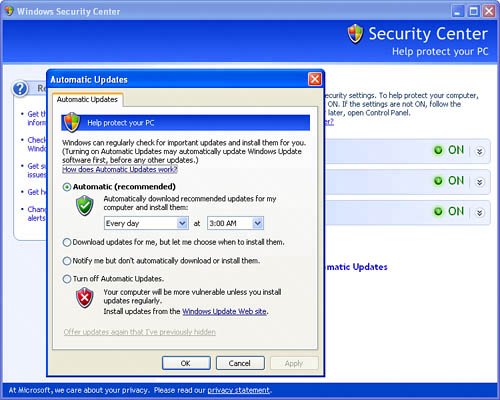 In the Automatic Updates dialog box, you can choose the time (and day of the week) when updates are downloaded and installed on your computer. You can also select to have updates downloaded and installed by you (when you want to install them). Turning off automatic updates is an option, but doing so can leave your system open to attack. Windows typically runs better after you install updates anyway.
It's up to you whether you use automatic updates or not, but it is probably a good "best practice" to allow the updates to happen automatically. When a new update is downloaded, you will find an Update icon in the Windows notification area (in the right corner of the taskbar). Clicking the Update icon allows the update to be installed to your computer.