After you have created your slides, configured your transitions and timings, and added animation effects to the objects on your slides, you are ready to run the slide show. You can run the slide show from any of the workspace views. If you have configured the mouse pointer as a pen, you can highlight information on your slides as needed. You can also jump to a particular slide during the slide show using the Navigator.
Tip
If you want the Navigator to be visible during the entire slide show, select the Navigator Visible check box in the Slide Show dialog box. Otherwise, you can open the Navigator with the F5 function key.

Run Slide Show
Select Slide Show, Slide Show from the menu. The slide show begins to run on the computer.
Tip
You can also start the slide show by pressing F9 or by clicking the Slide Show button on the Main toolbar. The slide show starts from the currently displayed slide, so make sure that you are at the beginning of the presentation before starting the slide show.

Highlight Content with Mouse
If you configure the mouse as a pen (in the Slide Show dialog box), you can draw on the screen highlighting information for your audience. Hold down the left mouse button and draw as needed.

Use Navigator
Click the left mouse button to go forward one slide. Click the right mouse button to go back one slide. If you need to move to a particular slide because of a question from the audience, you can use the Navigator. Press the F5 function key. The Navigator appears. Use the Navigator to jump to a particular slide. After you have finished showing the slide show, you are returned to the Impress window.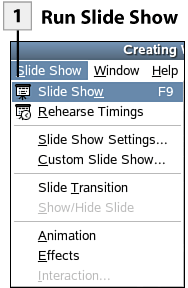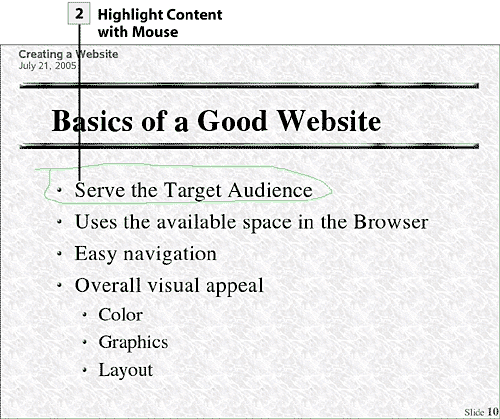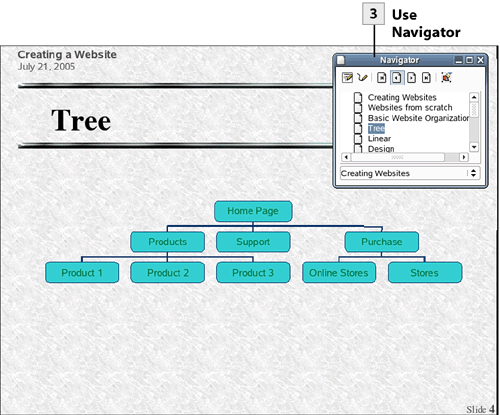 Tip
You can stop the slide show at any point by pressing Escape.