You can configure a number of settings related to the slide show using the Slide Show dialog box. You can select where the slide show should begin (select the slide) and configure other settings such as the pause time for restarting an automatic presentation and settings related to the mouse pointer.

Open Slide Show Dialog
From any of the workspace views (Drawing view, Slides view, and so on), select Slide Show, Slide Show Settings from the menu. The Slide Show dialog box opens.

Configure Slide Show Settings
To set a new start point for the slide show (other than slide 1), select the From option button. Then select the slide from the Slide drop-down list. To set the slide show to run in the application window rather than the entire computer screen, select the Window option button.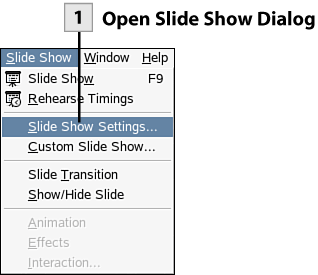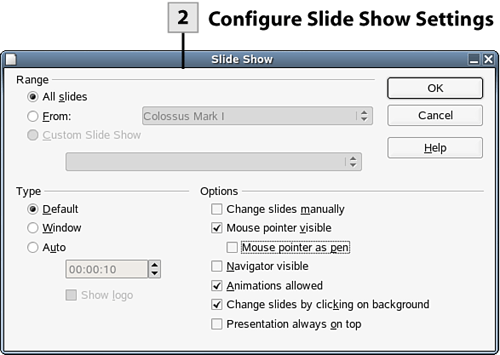 Tip
You can also select a custom slide show in the Slide Show Settings dialog box. A custom slide show is a slide show that you have configured using the current presentation slides. A custom slide show can present the slides in any order you want. To create a custom slide show (or shows) based on the slides in the current presentation, select Slide Show, Custom Slide Show, In the Custom Slide Show dialog box, select New to create a custom slide show. (You can select the slides and the order of the slides for the custom slide show.) You can create as many custom shows as you want based on the slides in the presentation.
If you want to set a pause duration (really the intermission time before restarting the presentation) for an automatically running presentation, select the Auto button and use the spinner box to set the pause duration (a Pause slide appears at the end of the slide show and stays on the screen until the slide show restarts).
Tip
If you want to run manually a slide show that has been configured as an automatic slide show, select the Change Slides Manually check box.
To use the mouse as a pen during the presentation (this allows you to draw on the screen), select the Mouse Pointer as Pen check box. After you have completed making your selections in the dialog box, click OK.