Creating an Audio Compact Disc
Creating your CD is often one of the last things you do before having people outside of your studio environment listen to your music. After you create an audio mixdown of your MIDI and audio tracks as a premaster file (in whatever format you used to do so), master one or more tracks as discussed earlier, save your files and convert them into a compact disc compatible format, you are ready to create a compact disc.
Cubase does not offer any tools to actually burn (record) a CD. But Steinberg offers one solution through Wavelab. This is by no means the only tool available. If you purchased a CD recorder, it might have come with a CD recording application. One thing is certain: You need software capable of creating a CD-DA compatible disc (Compact Disc Digital Audio). This brings us to formats. When creating CDs, the two most common types of CDs are CD-ROM and CD-DA. CD-ROMs contain data suitable for your computer. CD-DA contains audio that is suitable for both your computer and CD player. There are two variations of this: the Enhanced CD and the Mixed Mode CD, which are available in some software and some CD recorders . The Enhanced CD is a multisession CD, containing a series of CD-DA compatible tracks in the first session, making it compatible with your home CD player, and a second session containing data, which is read by computers only. In Mixed Mode, it's the reverse: The data tracks are at the beginning and the audio tracks follow. This usually means that your CD player will not read it. This type of CD is used for multimedia content, such as games , or educational, or multimedia sales presentations. In light of this, understand that you need to select the proper type of CD when creating a CD within the software application. There are a few rules to follow if you want your CD to play back in any CD player.
When recording a CD, there are three aspects that come into play: the format of the CD (CD-ROM, CD-DA, Enhanced CD, Mixed Mode, and so on), the session, and the disc. A session is an instance in which you decide to write something on a CD. For example, today you decide to record a wave file onto a CD. You write a session and to complete the process, you close the session for the disc to be understood by the CD-ROM drive. A disc is closed when you can't record anything else on it and opened when you can add other sessions to it. In our previous example, if you close the session but leave the disc open , you can record another session on it, making it a multisession disc, each time closing the session but leaving the disc opened for another recording. When you want to close the disc because the disc is full, you can do so after the last session you record, disabling it from being recorded anymore. This is called a multisession CD, which is common in CD-ROMs, Enhanced CDs, and Mixed Mode CDs, but this method of recording the CD is not compatible with audio CDs.
For an audio CD to play in a consumer CD player, you can only have one closed session and one closed disc in CD-DA format unless you are using the Enhanced CD format. When creating an audio CD, you may use two methods of writing the information onto disc: TAO short for Track-At- Once or DAO short for Disc-At-Once . You will probably want to consult your software and hardware documentation to see if these features are supported, but for now, understand that TAO records the audio CD one track at a time, leaving a two-second gap between each song that you added to the CD recording session. The DAO, on the other hand, does not record this two-second gap between each song you added to the CD recording session (see Figure 15.13).
Figure 15.13. Creating a music CD in the Nero Express.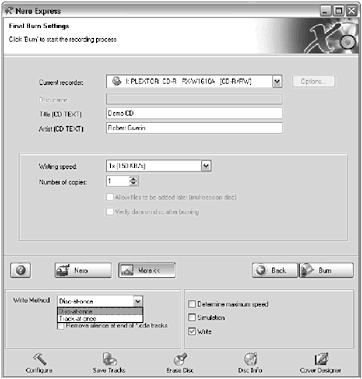 With these basic principles in hand, you can create audio CDs in your own home by using the audio CD creation software of your choice. It is also a good idea to create intermediate audio CDs to listen to your music on other sound systems and see if you are pleased with what you hear before you produce the final master. Most new domestic CD players accept an audio disk on rewritable media (CD-RW). Rewritable CDs are outside the specifications, but can be, if your player is compatible, a good way to create test mixes . But remember that for your CD to play, it has to be in audio CD format (CD-DA) and not in data CD format (CD-ROM).