You can browse Internet or intranet pages with Notes, or you can use other browser applications, such as Netscape Navigator, Firefox, or Microsoft Internet Explorer. A major advantage to using Notes as your browser is that Notes automatically stores copies of web pages as documents in a local Notes database called Personal Web Navigator. Then you can view them at any time, even if you are no longer connected to the Web.
| | |
| --- | --- |
| | When you retrieve web pages and store them locally for offline use, Notes as a web browser may seem slower than other browsers. This is because of the extra time it takes to store each page you visit. |
An offsetting disadvantage of using Notes to browse the Web is that Notes's built-in browser may not be able to display all retrieved pages correctly. So, as an alternative, you can set up Notes to use an embedded copy of Internet Explorer to browse the Web. When you do this, you are actually using Internet Explorer as your browser, but it displays all content inside your Notes window. When you browse this way, you can set up Notes either to store retrieved web pages automatically or to store them manually, on demand.
Yet another way to browse the Web from within Notes is to have Notes open your favorite web browser in a separate window. When you browse this way, you don't have the ability to store web pages in the Personal Web Navigator database. (You can, however, save pages to disk for later review.)
Configure your web browser options in your Location documents. Location documents are stored in your Personal Address Book. They tell Notes how to function from any particular location. For example, if your computer is located in your office at work, where you have a high-speed connection to your home server, an "Office" location document tells Notes to connect to the server over the network. But if your computer is traveling with you and you are in a hotel room with no high-speed Internet access, your "Travel" location document might tell Notes to use a particular telephone dialing sequence to connect to the Internet, then to your passthru server, and finally to your mail server.
In addition, many of the settings in your Location documents have little or nothing to do with where your computer is located. For example, one setting tells Notes which browser you want to use when you tell it to display a web page. You might prefer to use, say, Firefox as your everyday browser. But you may occasionally want to switch to Notes or the embedded version of Internet Explorer in order to store a web page in the Personal Web Navigator database. You could accomplish this switch by defining separate Location documents for each web browser you might want to use, then switching among them as needed.
Here are some useful techniques for changing your Location documents:
To edit your current Location document, you can click the Location box in the Status Bar (lower right corner of your Notes window) and choose Edit Current (the last item in the list).

To edit a non-current Location document, you can open your Personal Directory and navigate to the Advanced\Locations view. Or, in the Notes menu, you can choose File, Mobile, Locations.

To set which web browser to use, open a Location document in Edit mode, navigate to the Internet Browser tab, and select a browser in the Internet Browser field (see Figure 13.1).

To make Notes your default browser for all locations, choose File, Preferences, User Preferences from the menu. From the Additional Options list, select Make Notes the Default Web Browser on My System. Then, click OK.
Figure 13.1. Choose the web browser you want from this list in the keyword dialog box which appears when you click the arrow key in the Internet browser field of a Location Document.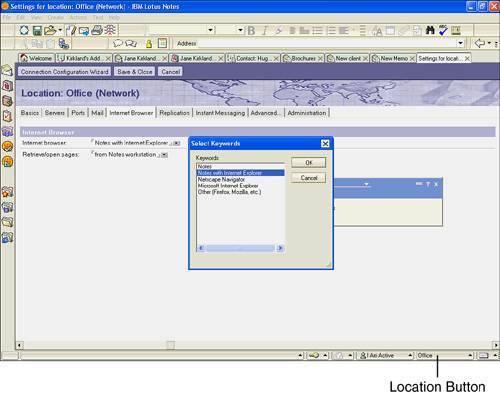 | | |
| --- | --- |
| | Another good use of Location documents is to easily change your Internet return address. Say you usually want your mail to be from Joe.Doaks@acme.com, but occasionally you want your mail to be from sales@acme.com or Joe.Doaks@beta.com. You can set up different Location documents, each with a different address in the Internet Mail Address field. Then you can switch between the Location documents whenever you want to switch your return address. If you want to do this, have your administrator set up your Person document with each address you want to use; else replies may not be deliverable to you. |