44. About Transitions
BEFORE YOU BEGIN
14 Add Media with the Adobe Media Downloader
34 Trim a Clip on the Timeline
SEE ALSO
3 Nest Your Panel to Save Desktop Space
45 Fade In or Out of a Video Clip
68 About the Properties Panel
Transitions are easy to find in the Edit workspace. They are located in the Effects and Transitions panel, by default, in the bottom-left panel above the Timeline. For this task, I have moved two of the panels above so we have a much larger view of the transitions and their properties.
KEY TERM
Transition Controls the way one image or clip in your project leads into the next. Transitions include wipes, dissolves, and page peels.
The Effects and Transitions panel is where you look to find audio and video transitions for your movie.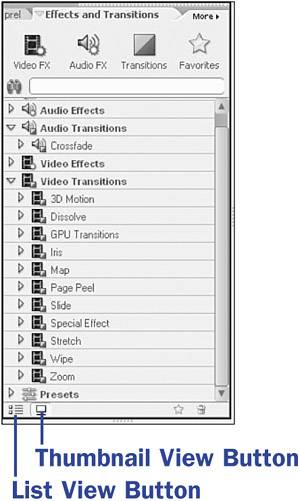 In the Effects and Transitions panel is a list of categories; click the right-facing arrow next to a category name to open the category and view the effects and transitions in that category. To select an effect or category, open the appropriate category and click the name of the effect or transition.
You can view effects and transitions in the panel in either List view or in Thumbnail view. Click the appropriate button at the bottom-left corner of the Effects and Transitions panel to put the panel in that particular view.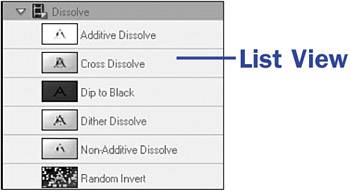 The Effects and Transitions panel in List view and in Thumbnail view.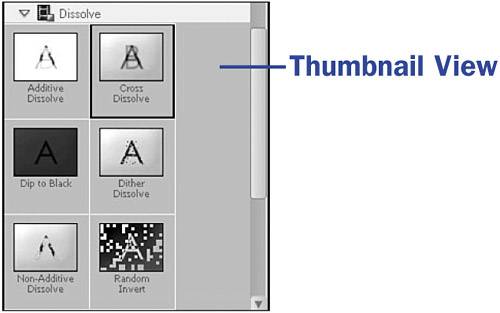 Both of these views give you a picture of how the transition will look and what it will actually do. Click the transition thumbnail to see an animation of what it will look like. Use these visual clues to visualize how the transition will appear between your clips, before actually applying it. Take a moment to look through the audio and video transitions to see which ones might interest you.
When you find a transition you like, drag the transition from the panel and drop it on the clip(s) on the Timeline. Notice that you must drop the transition at the beginning or end of a single clip or between two clips (see 46 Add a Video Transition). Your clips become highlighted when the mouse pointer is over a spot where the transition can be applied. After applying the transition, you can view its effect by moving the CTI over the transitioned area of the clip.
NOTE
After you add a transition to the Timeline, Premiere Elements displays a red line above the clip or clips to which you applied the transition. This red line indicates that the clip has not yet been rendered in its changed state. Rendering after adding transitions or effects is not necessary or required. However, depending on your system, rendering after adding transitions or effects might make the video play smoother in the Monitor.