In 1992, in line with the corporation's strategy to achieve management excellence within each of its companies, the Continuous Total Quality Improvement (CTQI) Program was launched with Holos TQC support, a Peruvian consulting company that originated during the 80s, specializing in quality management.
Introducing CTQI was not free from difficulties because of the various Backus Corporation units. QUIPUDATA, who was not oblivious to these difficulties, perceived the total quality process as an exceptional and additional task, on top of their everyday workload.
To overcome this resistance, the following implementation strategy was devised:
Cascading from a top-down approach that would involve lower organizational levels only when the level immediately above them will be totally involved in and committed to the process. In the first sessions of quality policies, the top management had an active participation, including the Board of Trustees of the Backus Corporation.

This approach sought systematically to overcome resistance to the process and to produce homogeneous and simultaneous progress within all companies, management level offices and divisions from the onset. No laggards would be allowed, regarding that all the companies at the Backus Corporation are vertically and horizontally, highly integrated in the value channel.

Drivers—the planning, organization and methods, human resources and quality control areas—were assigned a specific improvement plan, together with their CTQI role, operating in harmony to develop the necessary capabilities in the long term.

Attention was paid to the improvement of the organizational climate through ongoing assessments and the corresponding improvement initiatives.

Mechanisms for exchange and dissemination, such as competitive field days for workers, a Total Quality Fair, publication of the Logros (Achievements) newsletter and the outside dissemination of accomplishments were also put into place.

Three implementation stages were identified: learning, consolidation and deepening. The learning phase was focused to educate managers and workers on quality concepts and techniques; besides, facilitators were appointed to disseminate the new ideas. Consolidation phase demanded a deeper training in techniques and tools use. In the last phase, a specialized training was provided on specific topics.
A mature CTQI allowed to choose an in-house management program in 1997 based on the criteria for performance excellence inspired by the U.S. Malcolm Baldridge Quality Award. Called the Backus Management Model, it was simultaneously introduced throughout the corporation's companies.
Figure 1 shows the model's seven components. The first six describe the requirements to achieve excellence as a "world class"—including best practices—company. The seventh component comprises results in all relevant aspects of business management, i.e., customer satisfaction, market positioning, economic and financial indicators, operational performance, personnel development and motivation, vendor integration, organizational image building, etc. Evaluating these results requires taking a representative period and identifying international benchmarks.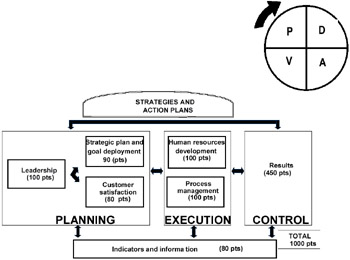 Figure 1: Corporate Management Model
Programs in each of these fronts translate into specific scores awarded through external audits that assess the actions carried out and the corresponding results during the year. The audit's recommendations are included in the following year's management plan, thus enforcing Edward Deming's quality cycle (plan, do, verify and act) to preserve the level achieved and create a mechanism for continuous improvement.
Corporate philosophy was reflected in the management model enthusiastically put into practice using the "visible management" concept. Management, department and section quality committees involved all organizational levels in the unceasing search for excellence. The Senior Backus Corporation Management was always careful to disseminate the management model being enforced by exhibiting it on a diagram that was distributed to all group companies.
The Continuous Total Quality Improvement (CTQI) Program, as designed in 1992, went through a four-year implementation process shown in Chart 1.
Chart 1: Introducing the Management Model

Learning

Consolidation

Deepening

Actions

Educating management and workers on the improvement concepts and techniques

Creating capacities: "facilitators"

Creating mechanisms for dissemination and recognition

Impact on Business

Low

Intermediate

High

Scope

Departmental

Division/business

Business/business group/corp

Enforced / Activity Program

Improvement project

Improvement projects and cross-functional projects

Assessing customer satisfaction

Organizational climate

Management indicators

COLPA[*]

Innovation projects

Quality assurance: ISO-9000 (only the production plants)

Total participation system

New approaches to human resources

Recognition

Newsletter/annual day/fair

Newsletter/annual day/fair

Newsletter/annual day/fair

Investment

Low

Low/intermediate

Intermediate/high

Period

July 92 – December 93

January 94 – December 94

January 95 – December 96

[*]COLPA is a Spanish acronym of classify, organize, clean, prevent and self-control.

The Continuous Total Quality Improvement (CTQI) was successfully implemented at QUIPUDATA because of the strong organizational culture focused on excellence achievement; nevertheless, it was necessary to overcome some small change resistance. It was a carefully detailed plan to convince everyone about the benefits of the new management model. Later, in 1997, the new Backus management model was adopted at QUIPUDATA and at all the corporation's companies. José Martinez recalls:
"Skepticism reigned at the beginning: our personnel doubted the proposed management model would be effective and had no confidence the results could be achieved. Having a homogenous company helped. We did monthly audits to monitor the project and worked hard to explain all company members the benefits we would achieve from this new management model. I think we made it. We enrolled everybody and gradually people became more and more committed to the process."
QUIPUDATA thinks the management model not only complies with the corporation's guiding principles but is also a very advanced system that, when enforced, keeps all strings under control. Once the Backus Corporation at large had adopted and accepted the management model and QUIPUDATA, in particular, it became obvious that an IT tool was needed to create the company-wide and corporate facilities required introducing indicator-based management and following up strategies.
In March 2000, QUIPUDATA launched a project to develop software to test the management model by providing follow-up for work-style practices introduced throughout the corporation, and the corresponding achievements. Appendix 3 describes this tool. The Backus Corporation's QDMonitor system is based on the principle that if results indicators are positive (shown in green), then the company or area's management is under control. Luis Calderón praises the advantages of the QDMonitor system: "Top management cannot be distracted by operational tasks nor be flooded by data; indicators will tell them about their management performance."
At QUIPUDATA, the management model acquires a special significance because this organization manages information technologies that are the foundation of innovation. Together with strict enforcement of continuous improvements at all levels, it creates a significant competitive advantage; information technology is the means to facilitate the adoption of better managing practices. Management conducts ongoing investigation to adopt best management practices and technological breakthroughs, while exerting strong leadership in guiding the design and follow-up of business management plans.
Luis Navarrete, the Organization and Methods Manager, forecasts the impact of the main management model components:
"In [the] future, the management model's strengths will gain new meanings because shorter improvement cycles will allow to benefit from capacities created in new business areas, markets or aspects. Additionally, identifying and including best management practices and technological breakthroughs will be faster and all these will contribute to better results and ever higher performance across the company."
QUIPUDATA strictly adheres to the guidelines created by all components of the management model. Some of the most relevant practices are:
Leadership: Management actively takes part in designing and following up plans for continuous improvement in management quality. It pays special attention to public recognition of outstanding people and projects, and strictly implements the plan for improving the role-played by management. Community outreach initiatives in education (traineeships and grants) and the environment (conserving natural resources) also get attention.

Strategic planning and goal deployment: Attention is paid to aligning the company's strategy (information technology) with the Backus Corporation's business strategy. A five-year strategic plan resulting from a formal design plan allows to spin-off strategic process under individual managers' responsibility aimed at acquiring new capacities and/or entering new markets. A strict design and control process for the management plan is enforced, while external and internal audits are based on performance indicators discussed in overseeing meetings. The company's goals and plans are deployed and disseminated throughout the company, with the corporate Intranet efficiently contributing to this goal.

Customer satisfaction: A number of mechanisms have been put in place to capture the clients' requirements in each market segment. The customer satisfaction improvement program (for both internal and outside customers) includes surveys to gauge the quality of services rendered and the subsequent improvement actions. Also available is the customer claim system. Other mechanisms to manage client relations include project management, maintenance requests and service orders.

Human resource development: A modern personnel management system promotes growth and incentives for workers who are deeply involved in various committees, improvement and innovation projects, and contributes their suggestions, which are largely put into practice. QUIPUDATA counts on its team of facilitators to provide process support from its internal resources, and it also enforces a program for ongoing organizational climate improvement.

Process management: Based on indicators, process management has also developed a quality assurance system for customer care processes that seeks to improve the quality and reliability of the company's product and service offerings. Its innovation projects adopt technological breakthroughs while the supply management program incorporates suppliers and improves their contribution to value creation.

Indicators and information: QDMonitors' management indicator system provides information about the operating status of all company processes and allows control by exception through a graphic warning device. A benchmarking program provides updated information on results indicators and best management practices.

Results: Chart 2 shows some company-side indicators.
Chart 2: QUIPUDATA Management Indicators
| INDICATOR | UNIT |
| --- | --- |
| Customers | |
| External customer satisfaction | % |
| Claims | Number of claims / 100 users |
| Market | |
| Corporate coverage | % |
| Sales to corporation companies | % |
| Economic | |
| Administrative expenditure budget | US$ |
| Earnings / sales to third parties | % |
| Operations | |
| Service - system effectiveness | % backlog |
| Maintenance backlog | Number of requests |
| Service interruptions - central computer | % |
| Service interruptions - servers | % |
| Corrective maintenance services | % stations served |
| Personnel | |
| Organizational climate | % |
| Hours worked/hours available | % |
| Turn-over | % |
| Performance | % |
| Management role | % |
| Total expenditures/number of workers | US$ / workers |
| Vendors | |
| Number of vendors | Number of vendors |
| Purchases from qualified suppliers | % |
| Vendor service level | % |

The above indicators stem from the company strategy. Relations among them have been identified over time. As an example of the benefits gained from the Continuous Total Quality Improvement (CTQI) Program, Figure 2 shows the fall of administrative expenses at QUIPUDATA as management quality scoring rose.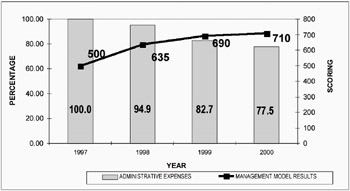 Figure 2: Expenditures to Management Ratio Scoring
Figure 3 shows some of the improvements achieved at QUIPUDATA in key indicators.


Figure 3: Evolution of Key Indicators
In 2001, after a deep analysis of QUIPUDATA possibilities in the commercial market, its management decided to implement a quality system based on ISO 9001: 2000 to assure quality standards in its processes in order to gain competitiveness in the information technology services market. The goal was to guarantee that administrative processes could satisfy consumer services' levels.
Two phases were defined to implement ISO 9001: 2000 at QUIPUDATA:
Phase 1: This phase included the processes related to the central computer such as the central computer operation process and the data batch processing. These processes were priories to take advantage of the chance to serve local companies.

Phase 2: This phase includes the developing systems processes, user support and those related to audit management of the first phase processes.
To implement the quality system, work teams belonging to the different involved areas in the system were made up. An internal consulting group formed with trained personnel in system quality (lead auditor and facilitators) supported the implementation process. It was developed in the following stages:
Diagnosis audit to all QUIPUDATA areas in order to evaluate their level of accomplishment of the ISO 9001: 2000 requirements and identification of those critical points where it was necessary to make improvements.

Planning to define the implementation strategy in a detailed work plan. The activities that must be accomplished, their deadlines, and their milestones were stated. Besides, the project organization and the roles of each of its members were defined.

In the carrying-out stage, all the personnel involved were trained in ISO 9001:2000 issues. The procedures to be regulated were identified and the requirements to achieve the norm exigency were stated. To avoid delays in the planned work and to correct any trouble, the leader of the project stated meeting sessions to track the progress.

Two internal audits and general revision by the directors were performed to verify the project advance and level of accomplishment within the ISO 9001:2000 requirements.

To get an independent feedback over the processes to be certificated, an external pre-certification audit was developed.
The final certification audit, carried out by an international acknowledged certifier company, was achieved without any discrepancy. The commitment of the top management with the ISO project and the strong cultural value shared across all the personnel at QUIPUDATA allowed this successful result. Regarding the qualified personnel and the experience gathered along the last years, the ISO certification took only 14 months and demanded just an investment of US$6,500 including the tracking audits.
The ISO 9001: 2000 implementation at QUIPUDATA allowed, among others, the following benefits:
Productive and administrative processes efficiency improvements because they were now controlled.

An improvement procedure was defined thanks to a preventive and corrective actions policy adopted to detect and eliminate the causes of discrepancies.

Improvement in customers and suppliers relationships.

Satisfied employees.

Human resources and purchase processes were finally ordered and controlled.

The certification could be used as a sale argument.