The evolving story of Globe Telecom within the context of the telecommunications sector of the Philippines needs be examined at multiple levels. At a macro level, the story of Globe Telecom is analogous to the biblical story of David versus Goliath. Compared to PLDT, Globe Telecom is a rather small firm; however, it has firmly established itself as the number two telecommunications firm in the Philippines. At an organizational level, Globe Telecom has improved its position through strategic partnerships, mergers, and acquisitions. Finally, at a micro level, Globe has continued to use advances in information technology to provide innovations such as 100% digital wireless offerings, text messaging, and a host of other value-added offerings that you would come to expect from any modern telecommunications firm. Each of these levels is discussed in greater detail in the next section.
Deregulation Provides Opportunity for the Small Firm
In 1993, Globe Telecom was basically a long distance provider. It was in the initial phases of developing a cellular business, but it had no subscribers. The Philippine Long Distance Telephone Company (PLDT) completely monopolized the wireline market, controlling over 90% of all telephone service in the Philippines. Globe Telecom understood that it could not complete in the telecommunications market head to head with PLDT if its strategy was to provide additional wireline telephone service for the Filipino people. It had to differentiate itself, and it did that by providing an all-digital network infrastructure, thus laying the foundation for high quality wireline, wireless cellular, and wireless text messaging offering for its customers. Fast forward to 2000, while PLDT still maintains an 80% hold on the wireline market Globe Telecom has a majority of the digital wireless offering, garnering a 48% market share.
Partnerships, Mergers, and Acquisitions
Being a relatively small firm, Globe Telecom needed to find regional and global partners in order to survive the telecommunications shakedown of the past decade. As noted previously, prior to 1993, PLDT was the dominant telecommunications firm in the Philippines. With the liberalization of the telecommunications sector in 1993 by President Ramos, a host of smaller firms, Globe Telecom included, each attempted to carve out their own piece of the telecommunications pie. The Philippines went from a single player to 11 additional players within the span of four, short years. As the telecommunications sector matures in the Philippines, consolidation is taking place, leading to just a handful of major players left competing. Most analysts now agree that Globe has firmly established itself as the number two telecommunications firm in the Philippines. It can be argued that this ranking is due in part to Globe's choices in strategic partnering. Very early on, the Ayala Corporation recognized that it needed a strong regional partner with expertise in world-leading telecommunications operations. Singapore Telecommunications International (SingTel) was the perfect partner to provide this leadership and established Globe as a serious contender against PLDT. Not to remain stagnate during the consolidation period beginning in the very late 1990s and the early part of 2000s, Globe Telecom acquired Islacom in 2001; this acquisition not only brought increased market share within the Philippines, but added a global partner in Deutsche Telekom. This acquisition could not have been timelier in the respect that just one year earlier PLDT had acquired Smart Communications, the second leading wireless communications firm in the Philippines to add to its previous wireless subsidiary, Pilipino Telephone Company (PilTel).
Wireless: The Enabling Technology of the Philippines
The Philippines telecommunications industry is a classical example of an emerging economy that has taken advantage of what has been described as a "leapfrog effect" in technology diffusion. The leapfrog effect is defined as when an old technology is largely bypassed in favor of a newer technology in a developing nation. Historically, it has been quite a challenge to lay landlines in the Philippines. Even after the liberalization of the telecommunications sector in 1993, landline subscription has only risen from 1.1% teledensity to 4% teledensity. Teledensity is defined as the number of subscribed phone lines per 100 inhabitants. While this is nearly a 400% increase in less than a decade, it still woefully trails the rest of the world's teledensity average of 16% and Europe's, Oceania's, and the America's teledensity averages of 35–40%. Figure 6 shows ASEAN national landline teledensity for the prior four years, as well as graphically displaying the Philippine landline teledensity against the ASEAN, Asian, and World landline teledensity averages.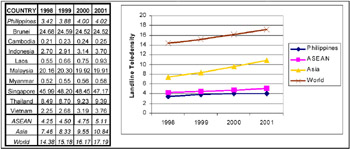 Source: Internatinal Telecommunication Union, 2002[7]
Figure 6:

Landline Teledensity
Figure 6 shows that the Philippines clearly trails the ASEAN regional average. Furthermore, it shows that the Philippines has less than half of the number of telephone lines as the rest of Asia and less than one fourth the average number of subscribed lines per inhabitant as the rest of the world.
From Lagging to Leading
However, examining the cellular teledensity numbers quite a different story unfolds; one in which the Philippines, as a nation, is a leader rather than a laggard. From 1999 to 2000, cellular growth went from approximately 2.9 million to 6.5 million or an increase of 3.6 million. This is compared to landline growth from approximately 2.9 million to 3.1 million for a total increase of a mere 169,000. Figure 7 graphically depicts this rapid pace of cellular subscription growth rate in the Philippines.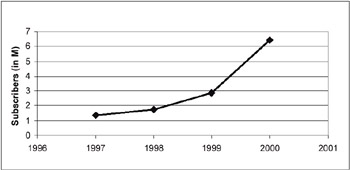 Source: National Telecommunications Commission, Republic of the Philippines
Figure 7:

Cellular Subscribers in the Philippines
This phenomenal growth has easily outpaced the other ASEAN nations, the rest of Asia, and nearly matches world as shown in Figure 8.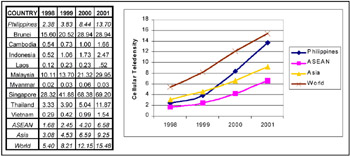 Source: International Telecommunications Union, 2002
Figure 8:

Cellular Teledensity
Another way to examine this data is to compare cellular subscribers to traditional landline subscribers as a percentage of usage (see Figure 9). Comparing landlines against cellular lines, it is shown that in 1999 cellular use was equal to landline use in the Philippines and by 2000 it had doubled landline use. Philippine cellular service increased from 41% to 77% in four years (and at the time 41% was an extremely high cellular to landline percentage). Figure 9 illustrates these comparisons.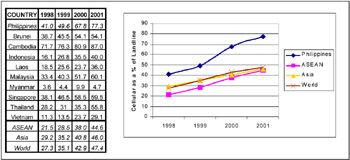 Source: International Telecommunications Union, 2002
Figure 9:

Cellular Service as a Percentage of Total Telephone Percentage
Here it is interesting to note that as a percentage of total phone subscribers the Philippines lead all the regional and world averages. This demonstrates how the leapfrog effect has taken place in the telecommunications sector of the Philippines. All of this shows that Filipinos who choose to communicate have a greater opportunity with wireless options than with traditional landlines.
The Philippine Text Messaging Craze
Another phenomenon that is worthy of mentioning is the Philippines leads the world in text messaging usage. A recent Asian Wall Street Journal[8] article reports that text messaging is in the neighborhood of 70 million messages a day as compared with an estimated 30 million messages a day in all of Europe. Other reports note that text messaging may be hitting 100 million messages a day in the Philippines. To illustrate the power of text messaging in the Philippines, the same article examines how the mobile text messaging network was utilized to mobilize hundreds of thousands of demonstrators to protest against former President Estrada. These protests eventually led to the ousting of Mr. Estrada in favor of the more telecommunications friendly Ms. Arroyo, the Philippines current president.
[7]http://www.itu.org.
[8]Asian Wall Street Journal, March 8, 2001.